Next-day Delivery

Available 7 Days a Week

Free UK Delivery

Mainland ex H'lands (over £25)

Pay Later

With PayPal or Klarna

150,000+ Reviews

from bikers like you

Free Returns*

Mainland ex H'lands (over £25)

Store network

8 Stores across the UK
Departments
Grex Helmets
Fully designed and made in Italy
With an ever careful eye on the evolution of the consumer and their desires, the Nolan Group noted a growing need to satisfy a new category of users. And this is precisely what led to the 1993 debut of the trademark Grex. Grex aims to provide a complete offer within the Group trademarks, providing the perfect entry helmet for new riders.
Departments
Featured Products
Dual homologated flip front helmet with internal sun visor and N-Com system ready
Verified Customer Reviews for Grex Helmets
Helmet great. support not so.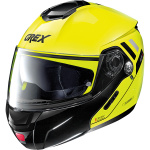 Grex G9.2 N-Com - Offset LED Yellow
26 May 2023 by Tony C
Helmet is very good.
But tried to get a replacement visor. No help advised to go to
Alternative company.
Should have bought Helmet there.
Quality flip up helmet at a great price.
Grex G9.2 N-Com - Offset Flat Lava Grey
25 January 2023 by Anonymous
Really pleased with the Grex G9.2 helmet I purchased from Sportsbikeshop. The fit and quality are both excellent (as would be expected from a Nolan brand). There is plenty of clearance between my chin and the front of the G9.2 which wasn't the case with a Caburg Duke I also tried. The delivery from Sportsbikeshop was next day and very well packaged to avoid any damage in transit.
Everything I need in a helmet at the right price.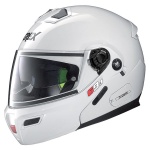 Grex G9.1 Evolve - Kinetic N-Com Metal White
24 May 2022 by Steve S
I could have paid hundreds more for the features in the Nolan helmet…integrated sun visor, vents, place for speakers, wide vision, Pinlock ready, locking flip-top, and comfortable lining. Great product and excellent service.
Love it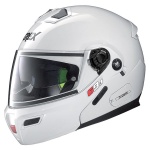 Grex G9.1 Evolve - Kinetic N-Com Metal White
11 March 2021 by Robert N
Very comfortable helmet and great price
Overall a very good buy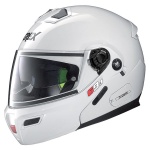 Grex G9.1 Evolve - Kinetic N-Com Metal White
15 October 2018 by Muhammad K
Was wanting a new helmet bought this one as it also had a Pinlock included has a lot of ventilation inside whilst riding.