15+ Years Online

Tried, tested, trusted

365 Day Returns

No-Fuss Refunds

Over 250,000 Products

£14m+ stock holding

Free UK Delivery

Mainland ex H'lands (over £25)

150,000+ Reviews

from bikers like you

Click & Collect

From a shop near you
TomTom Motorcycle GPS Accessories
Original TomTom Rider GPS Accessories
A range of accessories for the TomTom motorcycle GPS systems, from cases to power cables, to replace or supplement your existing Garmin Sat Nav set up.
Explore related categories…
Verified Customer Reviews for TomTom Motorcycle GPS Accessories
Sturdy, easy to read and use.
TomTom Sat-Nav - Rider 550 World
20 November 2023 by Anonymous
Easy to use even with gloves in the rain. Feels very sturdy and secures well. Always used a TomTom in the car so much the same (excellent) apart from the different motorcycle routes which I haven't used yet. Nice long wire provided to wire it up. Would I buy it again now I've used it? Yes.
Good Price
TomTom Sat-Nav - Rider 550 World
10 November 2023 by Peter W
When compared to my 'unsupported' Rider 2 I was a little disappointed that the Rider 550 didn't look or feel as robust, time and use will tell. I expected the unit to be secure in use so that I didn't have to remove it when leaving my bike parked during a comfort break. The ability to change the sensitivity of the screen is very useful. An opportunity to report back in 6 months on this item would be helpful.
Excellent & Easy to use
TomTom Sat-Nav - Rider 550 World
08 November 2023 by Dean R
Great Sat Nav with nice options for adjusting your planned route. The touch screen sensitivity is adjustable which makes life easy when wearing gloves. Very easy to set up and use.
Replacement due to age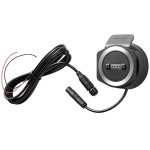 TomTom Bike Dock for Rider 400
04 November 2023 by Craig
Excellent bit of kit, I have 2 bikes and 1 Tom Tom so need a quick swap ability.
Only replacing my old one due to one of the pins corroding (bike is outside 24/7)
Top tip look online and get a 3rd party mount cover to keep it in tip top condition.
The only thing that lets down Tom Tom products.
TomTom
TomTom Sat-Nav - Rider 550 World
13 October 2023 by Gerry
Great item very good price