365 Day Returns

No-Fuss Refunds

15+ Years Online

Tried, tested, trusted

Click & Collect

From a shop near you

Free UK Delivery

Mainland ex H'lands (over £25)

Next-day Delivery

Available 7 Days a Week

Pay Later

With PayPal or Klarna
LS2 Textile Jackets
High quality LS2 textile jackets
A collection of waterproof jackets specifically designed for sport touring use, LS2 have used some of their helmet R&D to help create a versatile range of textile jackets.
Explore related categories…
Verified Customer Reviews for LS2 Textile Jackets
Beautiful jacket
LS2 Ladies Bullet Textile Jacket - Brown
28 June 2023 by Anonymous
Gorgeous jacket. Had to get a size up as they fit small
Great Jacket
LS2 Ladies Bullet Textile Jacket - Black
12 October 2022 by Ian M
Bought this for my wife and she was very happy. Very good quality, she really likes the look, the fit was spot on too.
the 'BEE's KNEE'S'
LS2 Brighton Textile Jacket - Olive Green
05 April 2021 by William C
This jacket looks lightweight but it actually is warm to wear and still not cumbersome. The dry pocket is a great feature and there is a loop to hold the wire for ear phones if you are using any. It is a very stylish jacket. It does not come with back protection standard but there is a place for it to fit in. So far I cannot find the correct armour that does. Elbows and shoulders are protected. Don't hesitate to but this.
Ls2 Rambla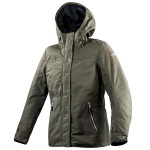 LS2 Ladies Rambla Textile Jacket - Khaki
11 October 2020 by Annemarie K
Great warm jacket, super comfortable, true to size but it isn't waterproof.
Had my phone in the pocket out for an hours ride and was wet when I got home :(
Will try some waterproofing spray to see if I can improve it.

Nice summer jacket
LS2 Serra Evo Textile Jacket - Grey
12 July 2020 by Kelvin
The Serra Evo is a good summer jacket but only for use on dry days. It's waterproof qualities are minimal but it does have an internal waterproof pocket for your mobile phone. It's comfortable but it is a snug fit.