Next-day Delivery

Available 7 Days a Week

250+ Top Brands

UK's largest range

Over 250,000 Products

£14m+ stock holding

Free next day to store

Online choice delivered in-store

Free Returns*

Mainland ex H'lands (over £25)

15+ Years Online

Tried, tested, trusted
Departments
By City Helmets
A selection of helmets by By City
By City is synonymous with high performance and quality. This kind of philosophy extends to everything that the brand looks for, an exceptional range of high performance, fashionable and functional motorcycle helmets.
Departments
Verified Customer Reviews for By City Helmets
Great service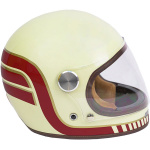 By City Roadster 2 ECE 22.06 - Wing Cream / Red
30 July 2023 by Karl B
Great service ordered on a Sunday delivered Monday. Nice looking lid great price and meets all specs. Many thanks.
A* Service and Product
By City Roadster 2 ECE 22.06 - Matt Black
02 June 2023 by John
Product came well packaged and was delivered sooner than expected. Product itself is amazing. Very nice helmet and very confortable. Would highly recommend Sportsbikeshop and will be using them again!