Verified Customer Reviews for Alpinestars Supertech Glove
Awesome glove!
23 May 2021 by James G
Had an issue with the size I originally ordered, was advised to try the next size up by Sportsbikeshop.
Received them the next day and they fit brilliant, love the fit and the colours as are so vibrant! Great feel from the glove and great touch feedback due to the way it's been designed.
Well worth the extra money for a superb glove that's superbly protective, comfy, and will last forever.
Are expensive, but worth it!!!
Style: Black / Fluo Yellow / Red
Best I've had yet !
12 September 2020 by KevC
I've tried so many gloves in the past and always been disappointed for one reason or another. I have piano fingers and fairly big hands. Then I tried these and immediately felt at home. You need 2 sizes up as the fit is very slim (Race gloves).

Feedback is second to none as the seems on the fingers are set higher up and the palms are kangaroo leather. A fairly close second to these are the A Stars GP PRO R3, but their too bulky for my liking.

These gloves are by far the best I've had yet and I'll be happy to pay the price for the fit and feel they provide.

SBS is phenomenal with their service, thank you guys.
Perfect !
12 August 2020 by KevC
First I just like to say I don't give a perfect score to just anything.

Normally I always try to stay brand loyal with Dainese but unfortunately their gloves are too short in the fingers for my piano digits. I've tried countless brands, including Held so I thought I'd give these SuperTech's a go but wasn't expecting much.

These gloves are super comfy from first putting them on and their easy to put on compared to most race gloves. Amazing Level 2 protection. It's the feel and feedback in these gloves that hooked me, something I've never experienced before in a race glove. These truly do feel amazing on the bike without all that bulk. The seams are stitched higher up the finger so you do not get that horrible bunching up in the fingers when pulling the clutch/brake. They are fairly cool summer gloves and in great colours. I will never be changing my gloves again unless they feel like these or I'll just buy another pair when necessary.

Go up at size at least !!! these are slim fitting gloves. I did try the Alpinestars GP Pro R3 in Large and they are a great fit, but ordered a 2XL in these Supertech's.

Dainese you have your work cut out competing with these I hate to say.

Note to SBS for their exceptional delivery and returns service. Thank you :D.
Style: Black / White / Red
Not so sure
05 July 2020 by Stephen D
Service excellent as ever form SBS.
OK fit although breaking them in took 600 miles and if this track day only Id need a lot of track time. Very very stiff to brake in, worst I've had in 40 years of riding. I tried the Dianese Metal 6 after I'd bought these which were so comfortable from the outset. Buy them again? No. Do the job? Yes, just as good if not better cheaper out there ?Defiantly. Go a size up and expect a tough breaking in session.
Very high quality and good feel
28 January 2020 by John K
I've not broken them in fully yet as I purchase during the winter but my first impressions are positive.

I always have to go with 3XL with Alpinestars and they are a snug fit to get on but feel great once your hands are in.

They feel very high quality and quite "safe" with the armour and brace across the two last fingers.
Style: Black / White / Red
Top quality
10 September 2019 by Robert B
Very good quality glove. The fitting is slightly small but not really a problem.
Style: Black / Fluo Yellow / Red
Top spec gloves from alpinestars
14 May 2019 by Ian T
The quality and fit of the supertech gloves is great. They are top of the range and a little pricey but well worth the extra money if you can stretch the budget to buy them. They tend to come up a little small so I always order next size up, but with the sportsbike free return policy you can easily exchange them if needs be without incurring carriage costs.
Quality Product as usual By Alpinestars
30 November 2018 by Craig G
Excellent product and excellent service by Sportsbike Shop, will be using your services again
Style: Black / Fluo Yellow / Red
Provide nice feel to riding and high quallity
10 August 2018 by Uwe T
Love these gloves, superb feel and grip.

Had the GP Pro before and ones "broke in" they served me very well for many miles.

The Supertechs also need some brake in but not as much and appear less "bulky".
Nice stitching, seems well designed and manufactured.

Some professional testers address the lack of hard slider in the palm area as a deal breaker.
Yes there are none. That might be the only minus.
I can't judge if that's a problem or if AS know it doesn't serve any purpose or if they assume experienced riders doesn't put their palms to the ground in a crash, would love to hear AS motivation to this.

They are small!
With some gloves I'm EU-size small, the GP Pros where Medium.
The Supertechs are size Large and has snug fit..
But it's no problem, check the measurement table, for me it was spot on accurate.
Style: Black / White / Red
Hmm
24 July 2018 by Simon T
These are well made, don't think they are anything special though to be honest. Another pair of gloves in the vortex of odd sizes. These are a bit long in the finger for me compared to the other A* gloves I have in the same size. For the full retail price I wouldn't buy them again but SBS did an incredible price match for me. My Knox Handroids will still be my day to day gloves (better fit but bigger and bulkier) whereas these will be saved for track days.
Style: Black / White
Description
Alpinestars Supertech Glove - Black
Supple and strong full-grain kangaroo and cow leather construction
Pre-curved leather on finger and thumb for greater riding comfort
Perforations on back of hand and fourchettes keep the hands cool
Ergonomic engineered Keprotech reinforcements provide maximum abrasion resistance
Alpinestars Dynamic Friction Shield knuckle protection system
Moulded knuckle protection air intakes and exhaust ports for increased ventilation
Ergonomic stretch insert on the palm
Injected TPU finger slider for superior impact and abrasion resistance
Ergonomically shaped TPU injected adjustable cuff panels
High grip hook and loop closure system at cuffs
Stretch leather accordion insert on extended thumb area and fingers
Internal top surface hand and thumb lining made with aramid fibre
Lateral leather accordion insert on the back of hand for greater movement
Internal little finger lining made with aramid fibre
Third and fourth finger bridge prevents finger roll separation in event of a slide
Gloves measured by palm circumference

Size Guide

| | S | M | L | XL | 2XL | 3XL |
| --- | --- | --- | --- | --- | --- | --- |
| PALM | 17.8 - 20.3cm | 20.3 - 21.6cm | 21.6 - 22.9cm | 22.9 - 24.1cm | 24.1- 25.4cm | 25.4 - 27.9cm |
Product Specification
Manufacturer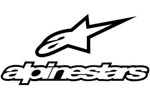 About
Alpinestars
Alpinestars, a truly world class brand of motorcycle apparel. Founded in the early 1960s by Sante Mazzarolo, Alpinestars has grown to be a world leading manufacturer of professional racing products such as leather jackets, jeans, boots and 1 piece suits. Whilst their leathers are worn by some of the biggest names in bike racing, they also specialise in high performance textile jackets, jeans and gloves. From F1 to Karting, the World Rally Championship to NASCAR, Alpinestars work with the very best drivers and riders to bring design innovations to all aspects of professional motor-sport.

You won't get it cheaper.
Our Price Match Promise.