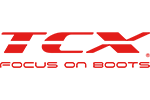 TCX Street Ace Lady Waterproof Boots - Black
Ladies vintage look leather boot with waterproof lining and wear resistant sole
View full details
Verified Customer Reviews for TCX Street Ace Lady Waterproof Boots
Wonderful shoes
19 June 2021 by Anonymous
It's very nice shoes. Was walking in that when I went to shopping and feels very comfortable. It looks good as well. For this price I couldn't asking anything more.
Style: Black
Great Boots
03 June 2021 by Bexx
Got these as needed boots everything I liked was out of stock for immediate delivery. These are well protected but they are comfy. Easy to walk in. Look like "real" shoes. I wore them on a 7 hour trip. Started to feel then by then. But are still new. So I'd definitely recommend these boots 109%.
Style: Grey / Glacier
Game changer for the short rider
15 May 2021 by Anonymous
I stumbled on these by accident in another shop which sadly didn't have my size.
They give you just enough extra height and still feel completely comfortable with feel for the leavers. Great in the rain, and for wondering about in.
Super speedy delivery as always.
Style: Black
Super comfy boot
08 April 2021 by Debbie D
I bought these as I wanted a pair of casual looking boots that I could wear on and off the bike .I was not disappointed .I wore them all day the first time and no pinching or rubbing .Soft soles but still plenty of reinforcing for biking .Love them ! Only comment would be on the sizing ,I take a 6 but needed the size 40 but as usual with sports bike I returned the smaller pair and got a new size out by return .
Style: Grey / Glacier
Comfortable quality
04 July 2020 by Rachael M
Extremely comfortable, very well made and don't look like bike boots so I can happily go on a ride and walk round town in comfort and still look good.
Style: Grey / Glacier
Fabulous Boots
18 May 2020 by Richard R
Fabulous looking trainer style boot. really comfortable have been worn all day with no issues.
Style: Dark Grey
Brill Boots
02 March 2020 by Brenda R
I wanted a pair of boots more for the warmer weather and a design that didn't shout 'biker' when not on the bike. They need to be comfortable for walking in, too. These tick the boxes and look super cool with jeans as well as bike gear. Good price, too.
Style: Black
Very comfy
17 January 2020 by Jen
Great style that go well with my biker jeans. Look great and very comfy walking around. Haven't trialled in the rain yet but as Im a fair weather pillion rider I'm not too concerned.
Style: Dark Grey
Great boots
16 August 2019 by Steve T
Nicely made trainer-style boots with good protection for a great price. Fit is true to size, they don't look like biking boots and they do what they're supposed to. Nothing to fault them!
Style: Dark Grey
Nice Boots
17 July 2019 by Cebic
Light boots, easy to walk around and strong enough to protect. Also they look stylish. A very happy customer.
Style: Dark Grey
Fab
27 September 2018 by Anonymous
Love em. Look great. Feel great.

Haven't worn them in the rain yet.
Style: Dark Grey
Great shoes
09 August 2018 by Andy
Bought for the wife. Great shoes, good protection and comfy.
Style: Dark Grey
Casual and comfy
24 July 2018 by Anonymous
Looking for some great summer trainers that didn't stick out like a sore thumb when you hop off the bike, found these and they are excellent. Comfy and still with protection, great for summer outings.
Style: Dark Grey
Comfy and very sturdy
25 May 2018 by Anonymous
Lovely boot, fits well but did get size bigger. Comfy and very sturdy. Looks very casual can wear on and off bike without looking like a bike boot. Bit hard round ankle at moment but think will get more supple and perfect with wear
Style: Dark Grey
TCX Boots
11 April 2018 by Patrick O
Exellent Service - Excellent Product
Style: Dark Grey
Excellent biking shoes
17 March 2018 by Anonymous
Excellent shoes in every way.
Style: Dark Grey
Trendy & fit for purpose
05 December 2017 by Mrs M
A ladies boot which meets all expectations - comfy, trendy, good style - would definitely recommend.
Style: Dark Grey
Brilliantly 'cool'
26 May 2017 by Adrienne S
First new pair of bike boots I've bought in over 10 years and when I came to look for an alternative I chose these. I'm soooo glad I did. They're brilliant. I wore them to commute to work and then kept them on all day - a job where I'm on my feet a lot - no blisters, no rub, and I even got a comment on the 'basket ball' retro look of them. Very happy with these boots from a riding point of view because they have all they need to make it a comfortable / safe trip too.
Bit waffly as I don't normally review anything, but I just had to say how good these were.

Style: Dark Grey
Press Reviews for TCX Street Ace Lady Waterproof Boots - Black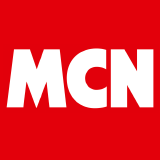 MCN 19th July 2017 Issue
Description
TCX Street Ace Lady Waterproof Boots - Black
Full grain leather upper construction
T-Dry waterproof lining
Toe and heel reinforcements
Lacing closure system
Anatomic and replaceable footbed
High wear-resistant rubber sole
Designed to fit the female foot anatomy
Trendy, all weather commuting boots.


Size Guide

| | 35 | 36 | 37 | 38 | 39 | 40 | 41 |
| --- | --- | --- | --- | --- | --- | --- | --- |
Product Specification
Manufacturer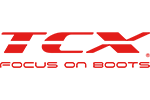 About
TCX
TCX as a brand was born out of the merger of two companies; Oxtar and Novation. Both companies were famed for their technological know-how, which ultimately helped to create what has become one of the most respected motorbike boot brands in the world. TCX inherited a history of innovations such as the Torsion Control System, and the Metatarsal Control System, which have subsequently both undergone modifications and improvements, helping to shape the boots in today's TCX collection. Both the racing, and touring ranges of bike boots, have specific technologies developed to maximise safety & comfort for the rider. The 'Woman Line' range shares the same technology as both the racing and touring lines, but has been developed specifically for the female foot. With a plethora of industry awards now under their belt, it's easy to see why TCX boots are one of the top selling boot brands on the market today.