Verified Customer Reviews for Richa Brookland Leather Boots
Motor cycle boots
30 August 2023 by Andrew W
Very comfortable. I haven't tested the waterproof aspects of the products yet. Arrived on time & well packaged. They will require some breaking in, as all shoe products do. They appear to give good protection to the whole of the foot & ankle areas & to the lower shin too. Perfect fit with my motorcycle jeans I.e no mismatch when seated on the bike. Would recommend
Richa Brookland
26 August 2023 by Kevin N
Great boots for on, and off the bike. Needed some bike boots I could wear all day in work. Bit stiff when walking about. But very comfortable on the feet. Will hopefully become less stiff the more I wear them.
Richa Brookland
25 May 2023 by Kadir M
Superbes bottes homologuées moto.
Good boots
11 November 2022 by Anonymous
Wanted a a pair of quick change boots that didn't make me look like a power ranger.
I've put on elastic laces and have never had to undo them.
Worn in some heavy rain and kept feet dry.
Grip and build quality seem good.
Only been wearing for a couple of weeks so can't advise on how long the boots last.
Great boots at a reasonable price
21 July 2022 by David W
Great boots at a reasonable price Feel safe on the bike and comfortable enough of the bike and look good
Richa brookland boots
28 February 2022 by Anthony W
Give them 10 hour 10 for extremely comfy

Riding Boots.
09 October 2021 by Kevin F
Great Boots,arrived quickly,fit very well,comfortable from the off!Not used on bike yet but went for a 2+ mile walk,to check for sweet spots, with no problems!Would reccomend 100%
A satisfied biker.
21 October 2020 by James M
Really comfortable, tested in the rain several times and have kept my feet warm and dry and have also been for a couple of long walks off the bike and no problems at all.sizing is accurate and I thought they actually looked better in the flesh than what you see in the picture so pretty pleased and satisfied.
Normal Boot
11 September 2020 by Andrew H
An excellent boot for when you are going to spend time on and off the bike. Worn with jeans for instance they look Lamaist like any other ankle boot. Maybe a little wider than day to day boots but almost. Fit and finish is good. Not tried the water proof ness yet as I have other more suitable boots if the circumstances look wet.
Good Value For Money
27 June 2020 by Greig W
Ended up purchasing these when another pair I wanted were out of stock. Very comfortable straight out of the box. Sizing was as expected. Didn't take long to break in at all. Worn for work and can easily wear them for 12 hrs or more without getting sore feet. The soles are thick and should last. For a relatively cheap boot they are very good indeed.
Nice boots
24 January 2020 by Sam J
Loved the boots when they arrived, loved the fit too though pretty rigid. I imagine they would break in with use. Great looking boot and well made. Not completely water proof though. As expected, SBS continued their excellent customer service and helped me resolve this issue.
Great boots
03 January 2020 by Tom
I've worn these boots every day since they were been delivered, the are warm, fit is excellent, and no creaking when walking, I would highly recommend to anyone
Quality performing and great looking boots
03 December 2019 by Andrew A
These boots are well made, comfy and look great too. Superb value if you can get them below the RRP.
Will keep your feet warm and dry, and you will find you can walk about in them easily straight from the box.
Two things you may wish to consider is sizing, as an 8 I had to swap up to a 9; plus take care on garage forecourts until the soles have their shine worn off.
Great for on and off the bike
16 October 2019 by Simon B
Well made with lots of padding, only worn once so far but immediately felt very comfortable. The zip is a nice feature which tightens up the fit without spending too long on the laces. One suggestion for the next edition would be an extra leather flap on the top of the left boot, to protect against wear when changing gear... but great boots and good value, also excellent quick delivery.
Style: Brown
Stylish and waterproof
24 September 2019 by Nick L
Lovely well made boots and waterproof too. Nice leather that needs no breaking in. Looks great on the bike and at this price are top value. Zipper on the side works well and the option of laces to ensure a tight fit is well thought out. Great all round.
Style: Brown
Richa Brookland Leather Boots - Black
22 September 2019 by Ray P
Great comfortable boot at a reasonable price
Great value Richa Boots
16 September 2019 by Frank S
Very pleased with these boots, comfortable & great value. Already wear Richa boots which I've been happy with as well as Richa jacket(s). Great service as usual from Sportsbikeshop.
Style: Brown
Comfortable boots
16 September 2019 by Roddy C
Good quality, sturdy boots. They're easy to wear from the kick-off, no need to break them in at all. Can be worn off the bike for reasonably extended periods in comfort. Very good value for money too, particularly at the lowered price point offered by SportsBikeShop.

Only slight negative - the leather does scuff very easily. First one for me happened before I was even out of the house. Personally not a problem, but if that's more of an issue to you you could be a bit annoyed.
Style: Brown
Description
Richa Brookland Leather Boots - Black
Tough cowhide leather construction
Internal waterproof membrane
Side zip and lace closure system
Heavy duty treaded sole for added grip
Rear pull tag for easy taking off
Size Guide

| | 38 | 39 | 40 | 41 | 42 | 43 | 44 | 45 |
| --- | --- | --- | --- | --- | --- | --- | --- | --- |
| UK SIZE | 4 | 5 | 6 | 7 | 8 | 9 | 10 | 11 |
| USA SIZE | 5 | 6 | 7 | 8 | 9 | 10 | 11 | 12 |
Product Specification
Manufacturer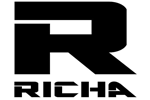 About
Richa
As a range, Richa motorcycle clothing has it covered with an extensive collection of both textile and leather garments to suit all types of rider. The brand consistently delivers both quality and style, without a hefty price tag attached. With over 10 years experience of producing product without compromise, Richa will undoubtedly continue to grow, particularly as it's range is constantly evolving to take the latest biking trends into account. As one of UK's most popular brands, you'll always find us featuring the entire Richa motorcycle clothing range particularly as it achieves one of our highest levels of customer satisfaction, just check out the reviews!
Questions and Answers
Questions and Answers
Hi if I order some boots and they don t fit would I be able to return them for another size or a refund. I take a size 11 which is sometimes considered a 45 or 45.5 or even a 46. I was thinking of ordering a 46. Kind regards Rob

February 27, 2023

An 11 in these boots is showing as being a 45. You're more than welcome to return them to us should they not fit providing they're returned in their original, unused condition, with all tags and label still intact, and in their original packaging.

You won't get it cheaper.
Our Price Match Promise.