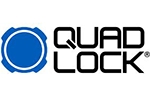 Quad Lock Motorcycle Vibration Dampener
Dual chassis suspension with silicone grommets helps protect your smartphone from harmful vibrations
View full details
Verified Customer Reviews for Quad Lock Motorcycle Vibration Dampener
A must if you use a Quad Lock!
17 September 2023 by Robert C
Quad Lock has created the vibration dampener to protect the gyroscopic sensor in your mobile phone. fFor under £16 this dampener will save you damaging your phone, which may mean buying a new phone.
Easy to fit into any existing Quad Lock system. Also, given the state of British roads, if you use your phone for navigation, it makes it far more stable and easier to follow the navigation app. A must have accessorie if you already have a Quad Lock system.
Save your phone!
25 August 2023 by Will D
Very easy to fit into the Quadlock mount, I'd recommend this to anyone who wants to keep their phone in the best condition! Makes the phone more stable when looking at directions.
Brilliant
20 July 2023 by Sarah K
Makes my life so much easier, it is expensive but that is a good investment.
Quad Lock Motorcycle Vibration Dampener
03 July 2023 by John R
Great Ride
03 July 2023 by Simon E
Quality piece of kit , forget the rest this is the best !!
Quad lock dampener
23 June 2023 by Jonathan R
Does what it claims. Would recommend it
Essential Protection
05 March 2023 by Nigel D
Purchased to protect the camera on my IPhone 12 Pro Max , looks quality bit of kit and easy to fit but not tested yet as it's far too cold to be out on the bike .
Thanks SPORTSBIKESHOP
Quad lock vibration dampener
01 March 2023 by Richard T
I purchased the quad lock vibration dampener from sportsbikeshop, free delivery, excellent product, easy to fit and protects my expensive mobile phone, which apparently can be irreversibly damaged by high velocity vibrations when fitted to the quad lock without the vibration dampener. There are no negative issues at all when fitted and you can read the phones screen easily when riding. I would highly recommend this product *****.
Press Reviews for Quad Lock Motorcycle Vibration Dampener
Description
Quad Lock Motorcycle Vibration Dampener
Glass filled nylon construction
Precision engineered silicone dampening grommets
Compatible with all Quad Lock motorcycle mounts and USB Charger
Secure integration offers same secure lock in portrait or landscape mode
Height 23mm and width 60.3mm
The level of vibration from some motorcycles can affect the image stabilisation on new smartphones. The Quad Lock Vibration Dampener ensures you can confidently mount your smartphone to any motorcycle.

Compatible with all Quad Lock Motorcycle Mounts and Quad Lock Motorcycle Accessories, the Quad Lock Vibration Dampener reduces over 90% of high frequency vibrations produced by motorcycles.

Featuring a dual chassis suspension system with precision engineered silicone grommets, the Vibration Dampener absorbs vibrations to protect your smartphone's camera.

The Quad Lock Vibration Dampener comes with everything you need to integrate with your existing Quad Lock Motorcycle Mount and can be installed in minutes.

Includes
1 x Vibration Dampener
1 x Allen (Hex) Key
1 x M5x12 Countersunk Screw (contained within Vibration Dampener)
Related Products
Manufacturer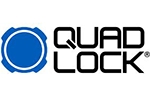 About
Quad Lock
Developed in Australia by Chris Peters and Rob Ward, Quad Lock was brought to market through the power of the internet and crowdfunding it launched on Kickstarter in December 2011 and smashed its funding goal and received rave reviews from the cycling community. Fast forward nearly 10 years and Quad Lock has now sold millions of products worldwide, making it one of the greatest Australian startup success stories of recent years.
Questions and Answers
Questions and Answers
Can you use this with Quad Lock Motorcycle Fork Stem Mount, the Quad Lock Smartphone Case and the Quad Lock Motorcycle USB Charger at the same time?

March 31, 2023

Yes, you connect the Vibration Dampener to the Fork Stem Mount, then the USB charger to the Vibration Dampener.

You won't get it cheaper.
Our Price Match Promise.