Verified Customer Reviews for Five HG2 Evo Heated Waterproof Gloves
Worth a look over the others
29 December 2022 by Adam H
Excellent quality, very comfy out of the box although size down and tight as they will break in pretty quickly and stretch some when wet. I'm glad i sized down as there's wiggle room now and the size up that fit perfectly would have been like a clown glove.

Battery life initial tests were pretty much as five claim although unfortunately I didn't get to test them on my day trip.

Dexterity is ok, on a par with other winter gloves that are lined on both the palm and back, I don't think the palm lining is bonded on but it didn't seem to move about like some do.

Heat levels, well that's subjective as most expect heat like an oven which isn't the point of them. I used them down at -9deg C and was comfortable.

Now the negatives:
I had an issue with this particular pair when the left glove lost connection to the right, then a failure to switch on.
Both times with fully charged batteries.
After disconnecting the batteries and recharging everything came to life again. Annoyingly the latter happened in the middle of a snowy wet ride in the Lake District.

The knuckle protection can be annoying, as with other five gloves it seems like a generic moulding from a child's hand and it doesn't span the width of my knuckles, instead it finishes with a thin edge right in the centre of the knuckle. Wasn't an issue cruising on the road but once up out of the seat on the trails the protector started to dig in.

The Five brand charging kit and spare batteries aren't available yet. You will have to make your own charger setup for when out on the bike and or get spare batteries from Amazon for which you could up the capacity slightly for longer running time.

Waterproof, well hindsight is a wonderful thing. I've never had luck with drystar, hydratex or any other claimed waterproof material other than gortex and this was the case here.
Fair play it took five hours of riding in the lakes in heavy rain and snow before they started to leak, but the lining was soaked when I got home and they are claimed to be waterproof.
However they lasted twice as long as my friends astars drystar road gloves before I felt the damp and the astars had given up halfway.

Conclusion.
They leaked under extreme conditions where most would have left the bike at home. I would buy these again for my short commute based on they would not see hours of sustained rainfall and the excellent backing for product's that sportsbikeshopuk provide.

I have returned this pair for a refund and have purchased the gortex version with it in mind that the battery/connectivity problem was an isolated issue.


Description
Five HG2 Evo Heated Waterproof Gloves - Black
Nylon Cat Eye™ fabric construction with goat leather palm
Heating Technology Dual Control™
5 DryTech™ weatherproof membrane
PrimaLoft® Gold 170g thermal insulation on topside and 60g insulation on palm
Aluminium foil insert on topside
ErgoProtech™ knuckle protector and palm slider
Double Closure System
ClearVisionPad™ on left hand
Touchscreen system index finger and thumb
Water-Resistant Battery pocket
Reflective print for improved rider visibility
CE KP1
Gloves measured by palm circumference

Size Guide

| | XS | S | M | L | XL | 2XL |
| --- | --- | --- | --- | --- | --- | --- |
| HAND | 21cm | 22cm | 23cm | 24cm | 25cm | 26cm |
Product Specification
Manufacturer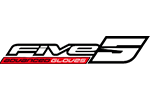 About
Five
The hand is the most complex part of the human body and also the hardest to protect. It contains the highest number of bones, joints, ligaments, and nerve endings in such a limited space and it's because of this that Five focus solely on the development of motorcycle gloves. Five base their development on one simple principle; you can't design a pair of gloves like you design an item of clothing, it just isn't the same thing. When you're on a bike, the glove isn't merely an accessory, it's the link between the rider and the machine. Whether you're overtaking, braking as you reach a bend, or making sure you get every last bit of juice from your motorbike's engine, it's responsible for so many decisions that can influence both performance and safety. Put simply, Five's sole aim is to develop and produce the most advanced motorcycle gloves on the market, using cutting-edge technology and drawing on their wealth of racing experience.

You won't get it cheaper.
Our Price Match Promise.