Shido Lithium Motorcycle Battery - LT14B-BS LION
Customer Product Reviews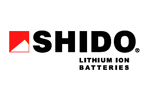 Our price
$143.71
$164.10
View Product Details
August 14, 2019
Well Made
The weight saving is important to me as I can't manage heavy bikes, and the size benefits as the battery compartment can store more electrics such as my camera wiring. If you were going custom/ cafe racer then these are a must but for myself it meant I could also add a higher power battery which gives me a bit more time on the battery. The benefits of Lithium are well recorded with excellent starting and longer life- but what really sold it was the price, about £20% cheaper than elsewhere.
June 4, 2019
The best upgrade yet!
This replacement is for my FJR1300 but it is not quite the same size in terms of the dimentions, not as wide and high as the original so some packing is required, but this thing packs a punch with 300 CCA! for instant starting. amazing light weight, highly reccomended.
PLEASE NOTE: The views and opinions expressed in the above reviews are solely those of the author and are not necessarily representative of the views of SPORTSBIKESHOP LTD.