Aliant Lithium Motorcycle Battery - YLP07
Customer Product Reviews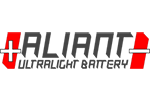 View Product Details
August 6, 2018
Excellent product, excellent service
My requirements from this battery are somewhat different than the usual. I have purchased the Keiss heated jacket for my wife which is advertised as not suitable for pedestrian usage as the current draw is too great, indicated at 7Ah maximum. With this battery weighing under a pound, and using the standard connection provided with the jacket, this will enable my wife to walk with the minimum weight of outdoor clothing on, whilst still benefiting from the warmth generated from the battery as if she was on the motorcycle. I also purchased the Optimate lithium battery charger to go with it. If anyone is suffering from heart related problems, and weight of clothing in the winter could be an issue, this may be helpful as an alternative. Sophie at SBS was very helpful, and the products arrived the next day. I also made a note in the calendar to charge all our lithium batteries at the beginning of each month.
June 28, 2018
Great little battery that packs a punch
Only have good things to say about this, it's my second YLP07 as I left the ignition on for the last one flattened it and as with any lithium battery it became unrecoverable. I didn't think twice about buying another because for the price and size there was no other option.
April 11, 2018
Good but need to be careful
Bought this to replace the battery on a Hornet I am customising. The small size was perfect for hiding away in the frame. No issues at all starting the bike or holding its charge, works just like a normal battery. However I have killed 2 of these, by letting them get completely flat. My bike has an alarm on it, and so if left with any drain at all, you need to keep a battery charger connected to keep it topped up. If it goes completely flat, it is dead forever and cannot be re-charged.
PLEASE NOTE: The views and opinions expressed in the above reviews are solely those of the author and are not necessarily representative of the views of SPORTSBIKESHOP LTD.