Shido Lithium Motorcycle Battery - LTX14L-BS LION
Customer Product Reviews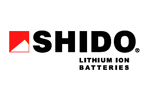 View Product Details
June 7, 2020
EXELLENT BATTERY
When the battery arrived I thought it was an empty shell it's so light, It looks very nice and fitted straight into position. When I pressed the starter button on my GSX1400 I was quite surprised at how much more lively she was in starting, those extra CCA do make a difference. Overall I'm very pleased with the battery and plan to purchase another for my Triumph Daytona.
December 7, 2016
Nice upgrade
Maybe a little soon to say for sure but, so far, looking good. Starts the bike very crisply and has not lost any charge in several weeks. I have had so much trouble with lead-acid batteries and it looks like this might have finally beaten it.
PLEASE NOTE: The views and opinions expressed in the above reviews are solely those of the author and are not necessarily representative of the views of SPORTSBIKESHOP LTD.