BS Batteries Motorcycle Battery - SLA Sealed Lead Acid BTX14 / YTX14-BS
Customer Product Reviews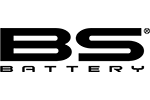 View Product Details
June 29, 2022
Good value
As usual I cannot fault Sportsbikeshop's efficiency in providing me with the battery, securely packaged and delivered promptly. The battery fitted straight into my GTR 1400 and she started up first time. As my bike is off the road at the moment and she has an immobiliser and a tracker in operation, I do have to start and run her every few days, but so far so good.
December 6, 2021
Fast service
The battery looks Ok and started the bike immediately after fitting. It did not require any filling or charging. Only time will tell the longevity of the battery. Came the day after ordering even though it was only ordered at night.
September 20, 2021
Good so far
Sports bike shop order process fantastic and I had a chat session with them about batteries. The battery arrived the next day. The battery has performed great so far. I unpacked it, no acid to add, and fitted to the bike and it started. I've used the battery for about a couple of weeks and the bike starts every time. The product quality and the price seems good but only time will tell.
August 5, 2021
My review
Ordered the battery from Sportsbikeshop and it arrived the following day. The battery looks well engineered and makes starting my bike more lively and fitted straight in to the bike
June 11, 2021
Great quality
Works straight out of the box. May be a relatively unknown brand (to me) but can't fault the punch it packs. Happy with this product & wouldn't hesitate to use BS batteries next time I need one.
May 31, 2021
Triumph triple
Great price quick delivery the battery was a perfect fit works straight out of the box
March 14, 2021
Great service!
Bought quite a few things from sportsbikeshop now, easy to use site and good delivery times! Put battery on after night on optimate, so far so good!
November 20, 2020
Brilliant
Brilliant, comes ready to fit, and fast delivery too. There's a guide as well which helps in selecting which battery goes which which bike. Happy
June 26, 2020
K1200S Battery
Excellent battery. Half the price quoted by local garage
PLEASE NOTE: The views and opinions expressed in the above reviews are solely those of the author and are not necessarily representative of the views of SPORTSBIKESHOP LTD.