R&G Racing Aero Crash Protectors - Honda CBR600 RR
Customer Product Reviews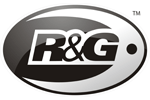 View Product Details
May 17, 2013
Thank Jesus for these !!!!
Very unhappily I managed to drop my CBR 600 RR after having her for just two weeks :( It was a stupid car park one mile an hour job but still managed to wreck the crash protector. I picked her up and looked closely not a single mark on the bike thank jesus!! These crash protectors definitely saved me hundreds if not thousands in fairing damage, they were a little scary to fit initially as you have to drill through the fairing but once fitted look the business. I have since bought another set to hide my indiscretion and the bike looks mint again. Cannot recommend enough!!
PLEASE NOTE: The views and opinions expressed in the above reviews are solely those of the author and are not necessarily representative of the views of SPORTSBIKESHOP LTD.