When you put an Arai helmet on your head there is a reassuring feeling of quality that has been the hallmark of the Japanese company for many years.
The Arai Quantic helmet is the first in their range to meet the new ECE 22.06 regulations and it continues this tradition of reassurance.
I've spent several months and a couple of thousand miles riding about in all weathers with one and here's my opinion of it…
The comfort is excellent, and I know from speaking to fellow riders over the years that this is one of the reasons why Arai have enjoyed so much repeat business… for most people they just work.
The multiple densities of foam in the standard cheekpads cosset my cheeks in a firm and comfortable way that cheap helmets simply can't match. For those who need to tweak the lining to obtain the perfect fit there are six sizes of cheek pad available, from 12mm to 35mm, and four crown sizes from 5mm to 12mm.
We can adjust the padding free of charge when you buy in any of our stores, or by getting in touch with customer services if you buy online.
The helmet comes with a Pinlock 120, the most absorbent available, and it clips into the visor without issues as the visor has been moulded to help the Pinlock sit securely in place.
Removing and replacing the visor is a relatively painless procedure (with some practice) but I personally preferred the 'rip it out' system used on older Arais.
This was not felt to be a particularly rider-friendly method, and landfill sites full of broken Arai sidepods are also testimony to the problem of that old design. For many years Arai have resisted the temptation to go with the flush-fit visor now common with most manufacturers.
The visor has a couple of ratchet positions, so will happily stay open at a few different angles of attack at low speed. At higher speeds it can be securely locked in place with the clip on the left-hand side.
There is a slight knack to getting the visor open. It involves pulling the visor out of its slot after pushing the securing lever up. In winter gloves it can get a little awkward to say the least, as can opening the top duct.
On the road I found the helmet to be quite draughty, despite having all six inlet vents securely closed. In the warmer months this was not an issue, but when the mercury dipped into single figures it became very annoying.
I'm sure I am not the only follically challenged Arai wearer who feels the breeze. Close inspection of the chin vent reveals that because of its design it doesn't fully close, however that only lets in a small amount of air.
The main source of the draught, and indeed noise, is the mid-front vent, which is neatly disguised behind a brand badge. Placing some tape over the vent to block it cuts off the draught and noise, but a bit of gaffer tape over a vent is hardly a flattering look for a high-quality helmet.
I know wind noise can be a subjective issue, but personally I found this to be a relatively noisy helmet, especially when the top vents were open.
The vents work well and go a long way to keeping your head moisture-free, but the extra decibels get very annoying. The ability to fully close the badge vent would make it a lot quieter.
I didn't fit a communications system to the helmet as I'm happy to live without digital information for a few hours, but I have fitted them for customers in our Harlow store without issue.
The removable liner, the earpiece cut-outs in the cheekpads and room to secure a unit safely to the side of the helmet all make it simple to fit a comms unit - just take a little bit of care when removing and refitting the cheekpads.
There is a Bluetooth unit designed for the Arai range, the Sena ACS10 system, but unlike some of their rivals you don't have to use a dedicated system designed specifically for the helmet.
I'm a great fan of this as it means that if you decide/need to purchase another make of helmet at some point you don't have another obsolete piece of electrical equipment stored away for possible future use/nostalgia.
The cheekpads can be removed in an emergency using the little tabs that are tucked away underneath, which makes removal of the helmet a lot easier for medical attendees. The Arai ones are a bit fiddlier to use and less obvious to the eye than some of their rivals, and I feel Arai could improve in this area.
Another area where I feel Arai are behind the curve is the introduction of internal sun visors. Their belief is that a sun visor's presence compromises the safety of the helmet. Having seen the gap between the EPS impact liner and the outer shell on some other helmets I can understand their concern.
However, in a world where you have an eastward commute towards the morning sun and your homeward trip west is into its setting position, in my opinion the primary safety of being able to see where you're going takes precedence.
On a late summer evening on the M25 I had to slow dramatically and use my left hand as a peak to cut down the glare. While an internal visor wouldn't have cured the problem completely it would have made it more bearable.
A pair of sunglasses would also have fixed the issue, if I'd had some with me - and at least I know they'd have fitted comfortably, as the Quantic's interior allows for the comfortable wearing of glasses.
Both cheekpads and crown pad can be easily removed when it's time to freshen things up. Hand washing in a mild soapy solution followed by air drying or a gentle hair dryer is the advice given. It's a shame the neck roll doesn't clip out as I can see this getting quite grubby too.
There is a small chin skirt, which isn't adjustable or even removable, so I do wonder why it's really there. I guess it may help keep the breeze off of your chin a little, but I can't prove that without taking it off.
The visor sealed well against the shell and didn't let in any water in the numerous times I rode it in the wet. Some light moisture found its way through the chin vent, but nothing too serious.
Another product I was using in the wet for the first time was Nikwax Visor Proof. This easy-to-apply spray excelled in its performance and at around 50mph kept the visor clearer than any glove-mounted wiper blade ever has. I've tried numerous such sprays over the years, and as a rule their performance has been mediocre to worthless. Not this stuff, which genuinely works.
The Quantic's outer shell uses the company's PB e-cLc (Peripherally Belted e-Complex Laminate Construction) which is a multi-fibre shell that's extremely strong and relatively light.
We're also told this model has additional layers for rigidity around the visor aperture and forehead vent area.
The rear spoiler, which is there to help draw air out of the closable rear extraction duct, as well as to aid stability at speed, is designed to break off easily in the event of a tumble. It's very secure, in fact it could be mistaken for a carry handle, but it will happily go west if the demand is there, as will the top vents.
Arai offer a full back-up and repair service with all of their helmets, along with a five-year warranty. At many shows and race meetings you can get your helmet checked over by their service team. They'll also replace things like vents that have gone missing, in the unlikely event you lose one.
Obviously, the ultimate test of a helmet is the one that no-one wants to try, but having seen an old model Arai tested on a rig I have total confidence in the ability of the shell and EPS liner to offer the best available protection.
The truth, though, is that a helmet needs to work efficiently in other areas for most of its life and I think that for day-to-day use there are more practical options available than the Arai Quantic.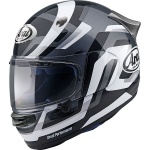 Price from:
£
429.
99
RRP

£

599.

99