Verified Customer Reviews for Daytona Strive Gore-Tex Boots
Very comfy
18 October 2023 by Anonymous
I've balked at the cost of Daytonas for years. Wish I had bought some a decade ago instead of penny pinching. Super comfy and wearable under jeans!
What a great service and what a great boot
21 September 2023 by Joe Y
Wanted to get a new boot and wanted to try the Strive but wasn't sure on size. The really helpful staff got two sizes in for me to try the next day and I was sorted out with size 43. So well done MK. The boots are great would well recommend to anybody wanting a sport boot thats 100% waterproof.
Superb quality
23 November 2022 by Nick W
Great quality boots with incredible feeling of safety built in. Comfortable from the moment they were put on. 100% waterproof in several downpours. Price match made them a no brainer upgrade.

Waterproof slippers
28 July 2020 by Paul W
I know they are expensive, but after trying on 8 different pairs of boots these were the ones. Buttery soft leather so don't need to break them in, easy to walk in and after riding in what felt like a monsoon, my feet were perfectly dry. Worn with my big socks, feet never got hot either. If Carlsberg made motorcycle boots these are the boots. To top it off as usual, great service from Sports Bike Shop and they price matched a competitor. Outstanding product and amazing service.
Great value
25 October 2019 by Anonymous
This is the second pair of strive GTX I have owed , the previous pair lasted 9 years with no issues.
Daytona Strive GTX Boots
30 August 2019 by Judd H
Finally had to replace my oxtar boots which had started to leak after 9 years. Thought id try the daytona boots because of all the good reviews, although the price is 3 times that of the boots they've replaced.
They are however comfortable straight out of the box, seem very well made and have already remained dry after several deluges of heavy rain. Overall I'm very happy with them. Sportsbikeshop's service is excellent as always.
Quality is what i wanted & quality is what i g
22 August 2019 by Clive M
Ordered one evening from home & delivered next day too a work address NO problem Top service
Great boots
09 December 2017 by Roy
After reading many reviews I decided to bite the bullet & go for the Daytona Strive. Easy to buy, super swift delivery & I can see these keeping my feet dry & toasty for many years to come.
Awesome
04 March 2017 by Craig
Love them. They're sized quite large compared to other Daytona boots. I tried the Road Stars in 43 a while back which were way too tight, but the 43s in this boot are the perfect size for me. I'm normally a 44 shoe.

I've only had them for about a month at the time of writing but have already been caught in huge downpour and of course lots of cold weather - no cold or wet feet. They're simple with one zip and full Goretex inner boot, so I can't see these ever leaking, as expected from Daytona boots.

They're a much sportier / light weight / slimline boot compared to the Road Stars but of the same quality which is nice if you're used to something a bit more sporty.

Very happy with them and can see them lasting 10+ years maybe with an occasional re-sole / re-Goretex which can be done for quite a reasonable price with Daytona.
Quality boots
20 January 2016 by Dietmar K
The quality and craftsmanship of these boots are of a high standard. But then would you expect anything less from the Germans. They are very soft with all the protection you need in all the right places. The sole although strong has a nice flex to it so you could wear these boots to church if you like. Breaking in time is very quick. I only had one issue with my 1rst pair. The left boot when fitted pressed down hard on my foot on the inside at the bottom end of the zipper whilst the right boot on my bigger f
Press Reviews for Daytona Strive Gore-Tex Boots - Black
I've always regarded Daytona as the Rolls-Royce of motorbike boots and these Strive boots are typically simple and un...
Description
Daytona Strive Gore-Tex Boots - Black
Non-slip sport rubber sole
Ankle protection both sides
Shin protection
Padded inside with open-cell foam
Waterproof and extremely breathable Gore-Tex membrane
Water-repellent and greased cowhide leather
Reinforced gear pad made from abrasion resistant PU foam
Plastic reinforced inner sole with a hot-dip galvanised steel inlay
Elastic areas at instep and heel for more comfort
Sole abrasion resistance, screwed on, easy to replace
Size Guide

| | 40 | 41 | 42 | 43 | 44 | 45 | 46 | 47 | 48 |
| --- | --- | --- | --- | --- | --- | --- | --- | --- | --- |
| UK SIZE | 6.5 | 7 | 8 | 9 | 10 | 10.5 | 11 | 12 | 13 |
| USA SIZE | 7 | 7.5 | 8.5 | 9.5 | 10.5 | 11 | 11.5 | 12.5 | 13.5 |
Product Specification
Manufacturer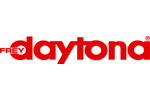 About
Daytona
Handmade in Germany, Daytona motorcycle boots are designed and manufactured to perform far beyond the expectations of any motorcyclist. With over 80 production steps in the manufacturing cycle of a Daytona boot, and with almost every component still made under one roof, Daytona maintain an exceedingly tight level of control over the quality of all motorcycle boots that leave the factory. When it comes to technical innovation, Daytona have always been one step ahead of the competition, and remain ahead by utilising the very latest in materials and technical processes. As pioneers of the motorcycle inner boot, Daytona also place motorcycle safety at the forefront of everything they do.

You won't get it cheaper.
Our Price Match Promise.