Verified Customer Reviews for HJC CL-SP
Just the ticket
10 April 2021 by Keith J
A good helmet and fit for my 64cm loaf. Good ventilation and little in the way of wind noise. The downsides are the lack of internal sun visor and lack of styles and colours. As Henry Ford allegedly said, "You can have it in any color you want, as long as it is black."
Big Head Club
08 September 2020 by Julian P
Good valve for money, solid helmet with basic features, the best one being the 4XL actually fits my big head comfortably. You don't get much choice in features when your head is this big. You can't go wrong if your a member of the big head club with this one. The HJC logo is removable if you don't want to look like a Billboard!
Comfort at last
04 June 2020 by Anonymous
Being blessed (or cursed) with a 65cm head, I have struggled for years to find a helmet that fits well. Finally, this is it. As soon as I put it on I felt at home. It's like riding with your head in a cloud compared to other lids.

Credit to HJC for catering to what must be a limited market, but there are compromises. You don't get an internal sun visor, there's no pinlock and the choice of colours is black or the other black. I guess without the sales volume, they can't justify those extra costs.

On the plus side there is the comfort (which is the main reason for buying this), also the build quality is really good at this price point, it's not especially heavy and vision is great. There's moderate wind noise but I ride with earplugs most of the time so it doesn't matter to me. The top air vents whistle a bit at speed when you have them open, but they are easy to shut when you are on the move. I had no problem wearing glasses either.

Overall, I am very happy - especially for the price. Just give us a few more colour schemes and you can have 5 stars.
Excellent
27 May 2020 by Anonymous
Brilliant helmet good fit for a big head nice soft Padding very comfortable and very quick delivery
Style: Solid Gloss Black
Great for Big Heads
31 July 2019 by Vincenzo S
Really comfortable and for the the price you cant go wrong with it, surprisingly light aswell.

My heads about 65cm and the 3xl fits really well.
Great
07 June 2016 by Stu
Great helmet for a larger head.
Calling all big heads
06 April 2016 by Anonymous
This is big! The shell has been made for this model, not reused from a Large or XL helmet. I ordered the 3XL and although it was definitely bigger than cheaper 2XL's I have tried I tried the 4XL.
The 4 XL is truly huge, it was the biggest full face I have ever tried, BUT after wearing it for an hour watching tv, my fat hamster cheeks were not feeling great. Don't get me wrong I have a planet on my shoulders and this should do any other big heads.
I will return to my trusty open face ( Caberg downtown 2XL)
The quality is great and I'm gutted this HJC wasn't for me.
I will try further up the price range, if that fails some USA shops go up to 5xl(!). I hope this helps as its a pain to sort a lid for a big head

Almost perfect
30 October 2015 by Jason H
Excellent fit and very comfortable to wear. Good visibility, could maybe do with an internal sun visor to block dazzle in sunny days.
Style: Solid Gloss Black
Description
HJC CL-SP - Solid Matt Black
Only available in 3XL and 4XL
Advanced polycarbonate composite shell
Superior fit for larger heads
Extra large EPS and shell size
Removable and washable bioceramic interior
Groves to accommodate glasses
Micro buckle retention system
UV resistant, quick release HJ-09 anti-fog visor
Product Specification
Visors
Manufacturer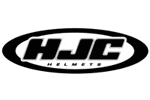 About
HJC
HJC have been designing and manufacturing high quality protective helmets since the early 1950s. In 1971 the factory turned all of its attention to motorcycle helmets and set itself the simple goal of providing high quality, comfortable, and reasonably priced helmets to motorcyclists throughout the world. This goal came a step nearer during the 1990s when HJC became America's top selling motorcycle helmet - a position it's held ever since. Today HJC helmets are available in every corner of the globe and are, quite simply, the world's biggest helmet brand, producing more motorcycle helmets than any other marque. The range now encompasses the full spectrum of helmet types, with the widest selection of graphics, materials, and price points.

You won't get it cheaper.
Our Price Match Promise.