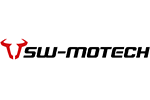 SW Motech TRAX Canister Set
Large 2 litre bottle and holder that attaches to the TRAX Accessory Mount
View full details
Verified Customer Reviews for SW Motech TRAX Canister Set
When 20 litres isn't enough...
29 July 2020 by JDW
Great well made set but could be improved...
Firstly, there is nothing stopping someone simply releasing the securing straps and walking off with the fuel canisters. A simple pad lockable arm on the holder would prevent this. Consequently, I have to lock them in my pannier at night taking up valuable space. A big inconvenience when touring. Secondly, although fitted properly, they did wobble on the mounting bracket securing rivets somewhat which surprised me for German made kit. Easily solved with a thin strip of number plate securing tape which still allowed a small amount of movement to take into account any expansion in hot climates. They do look amazingly cool and have a well designed detachable pouring nozzle. The filler hole is large so easy to fill at petrol station unlike some of the competitors canisters which require a suitably sized funnel. If needed, I would definitely buy again.

Description
SW Motech TRAX Canister Set
Large 2 litre bottle
Bottle holding plate includes two straps
Safely stores liquids on your case
Mounting hardware included
Requires the TRAX Accessory Mount
Mounting Kit
Manufacturer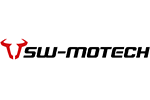 About
SW Motech
Germany's leading motorcycle luggage company can trace its roots back to one bike adventure in 1994. Engineer Jurgen Swora wanted the right luggage for a trip to Libya on his Honda Africa Twin, so he made his own. His creation was so popular among friends that it led to the birth of SW Motech in 1999. Now charging into its third decade, SW Motech is still true to those original principles of high-quality engineering. Craftsmanship with metal remains the foundation of the company, which has grown to over 200 employees, and now it has a wide range of soft luggage to complement the hard luggage around which the company made its name.

You won't get it cheaper.
Our Price Match Promise.