Verified Customer Reviews for Scorpion Exo-Tech Evo
Nice lightweight modular
05 November 2023 by Brian S
Feels like a great helmet. Tighter fit than Neotec 2 but not uncomfortable. Much lighter and great flip over design. Marked as good as SBS seem to be a bit of a victim of their own great returns policy. Box was ripped, missing a lid lug and the manual had been thumbed through. I did send pics as requested but didn't get a reply. In fairness I did say I didn't want to return the item so it won't stop me using them in the future. They are still the best out there and was possibly unlucky in this case.
Very happy with this helmet
03 October 2023 by Allan D
Very well built, solid helmet. Very good functionality around managing the flip up release and sun visor - I can easily manage both with winter gloves on (tested going around northern Scotland recently!). Having the catch that also lets you ride with the helmet fully up is also a bonus, though I tend to only use that when talking/buying petrol, etc. Visor is really clear, with good width of vision. There are a couple of reviews mentioning wind noise - yes, it's not the quietest helmet, but if I compare it to my Nolan fixed full face helmet it's no noisier. So, if you want a really quiet helmet this probably isn't for you, but if you want a really well built and function friendly one then this is great.
Great Value
28 September 2023 by Steven W
After doing plenty of research I decided on the Scorpion Evo-Tech Evo.
It fits snugly in all the right places and has a wide opening for good all round vision when closed.
It's easy to open and close for putting it on.
The added Pinlock is excellent.

I was able to fit my Cardo headset easily as the inner linings were simple to remove and refit.

The only thing I found a bit fiddly is the lip on the visor is quite small making it difficult to lift when you have gloves on.



A modular helmet which delivers.
02 September 2023 by Phil F
This is my second Scorpion modular helmet with the fit and build quality being spot on. Currently on circa 1000 miles wearing the helmet from out of the box. The sizing is the same as my last helmet. I choose a modular helmet for two reasons. First, I wear glasses and, second, I need to show my face at a control of entry every day I go to work. On the first point, easy to slip on with glasses on, and no pressure against the arms of my glasses to the sides of my head due to cut-outs in the lining. However, I do need to remove my glasses when removing the helmet, unlike with my older helmet, but this might improve as the helmet beds in. On the second point, the helmet opens and locks securely at the rear of the helmet with a magnetic latching system. The button to unlock is ergonomically designed and intuitive to operate, requiring only a lightly applied single finger press upwards to unlock. Inversely, easy to close and secure with single clutch hand whilst on the move. Pin-Lock anti-mist is new to me, so Jury is out until I have done a few more miles across colder and damper winter riding conditions. The pin-lock visor was extremely tight to install and I have just noted a small crack starting to develop on the pin-lock insert, not the helmet, so might need to have a chat with the brilliant team at sportsbikeshop next time I am in. The cost at circa £300 is at about my personal price point for a helmet, so any more expensive and I may not have considered. I think the build quality, fit, form and function warrants the cost but I would propose that the cost ceiling has been reached. I hope my comments assist you with your next purchase whilst considered fair and accurate by Scorpion.
Excellent
25 August 2023 by W
Very comfortable and quiet. Its visor is very easy to remove and replace. Removable liner. The flip front which locks back making it into an open face is a nice design. Great value.
Nice, comfortable helmet
23 August 2023 by Jacqui B
Only had the helmet a short while and found it to be comfortable and not too noisy. Good quality at a reasonable price.
Quality product
25 July 2023 by Peter C
Really comfortable helmet
SCORPION HELMET
05 July 2023 by Anonymous
Great helmet, the features are great, all the benefits of a full face helmet and the ability to use as an open face, well built comfortable helmet
Comfortable and well priced
01 July 2023 by Ryan
Great fitting helmet considering I tried on almost every helmet I could. Functionality of the flip up chin bar is great and works like dream. Feels like a good quality helmet all round and no concerns at this point.
Good helmet but too tight when chinbar down
28 June 2023 by Neil J
Excellent features but the helmet was very tight when chinbar closed. Maybe my noggin shape but all previous lids were L but this one I needed 2XL. Too much pressure when chinbar closed. No where near me to try lid on before hand. 1st time scorpion trier. As always, sportsbikeshop.co.uk were a breeze to use and return lid for bigger size. Bought packtalk edge as bundle. Great discounts. Speaker recess too shallow. Required a little work to have the speaker flush.
Perfect for summer!
22 June 2023 by Anonymous
Being a recent purchase, I only tested it in the warm(er) weather and it is brilliant! I used it without the pinlock insert so far, and in the colder mornings it was more than fine due to the excellent ventilation it has! Then in the scorching afternoon just convert it to open face and you're golden! My only complaints: the visor only opens half an inch or all the way (some intermediate steps would have been nice) and totally subjectively to me it seems noticeably louder then my old Caberg Duke II that I got for half the price! Other than that, top notch, I would definitely recommend it for the summer!
Helmet for all occasions
09 June 2023 by Peter T
This is my third Exo-Tech helmet and they just keep getting better. The Evo variant has more safety compliant features but they fit is the same, rear comfy with plenty of ear space. Having the ability to ride open faced or with the chin bar down is a game changer for riding in all weathers, the sun visor on the Evo now sits slightly lower and is perefect. My go to helmet!
Scorpion Exo Evo Tech
08 June 2023 by Toni K
Quality helmet from Scorpion.
Glasses fit perfectly which is not the case for most of the other helmets I tried on.
Wind noise is significantly less than on few others I owned.
Recently I hired bike and equipment and the wind noise was just unbearable. Wish I had Evo Tech.
Easy to convert to open face even with gloves on.
The only little negative is that if you want to crank it open just to first step it opens a bit too much for my liking. I only rode with it in summer and without pinlock which is supplied with helmet and had a bit of fogging with it fully closed while stationary but too much wind with it on a first notch. But once riding and fully closed it was all fine.
Great looking helmet but seems noisy
31 May 2023 by G
Great looking helmet and features... in that the chin bar goes to rear of your head... but seems there is a lot more wind noise than my Schuberth C3 Pro. The features operate easily and smoothly.
Description
Scorpion Exo-Tech Evo - Genre Grey / Silver / Red
Durable thermo-resin shell construction
Dual P/J homologated flip-back design
Kwiwick3 anti-microbial removable interior
Soft but firm 3D cheek pads for added comfort
KwikFit cutouts for glasses wearers
Micrometric chin-strap retention system
Recessed Max Vision Pinlock insert included
Internal anti-scratch drop-down sun visor
ECE 22.06 certified for use on the road
Product Specification
Variants
Manufacturer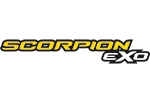 About
Scorpion
Scorpion Exo is a relatively new addition to the plethora of motorcycle helmet brands available in Europe but they have most certainly hit the ground running. From their European base in Strasbourg, France, Scorpion have developed some of the most technical elements found on motorcycle helmets today, that have since become commonplace on the feature lists of the biggest brand names. A form of Scorpion's own Airfit pump system can now be found on models of both Shark and HJC helmets but it was Scorpion Exo who pioneered the technology, along with other innovations such as their Kwikwick liner system. The Scorpion helmet range, whilst focusing on technological advancements, also focuses on the more core expectations of today's biking fraternity, style, quality and fit. To that end, they've hired some of the most famous names in motorcycle helmet design and are able to control their entire production process, by manufacturing all elements of the helmet themselves, in their own production facilities. Scorpion say that their philosophy behind every single helmet they produce can be summarized in five words: protection, aesthetics, dynamism, comfort and innovation. We say, that over the next few years, Scorpion helmets will continue to grow in popularity throughout Europe and will undoubtedly take their place alongside the other major brands of motorcycle helmet.

You won't get it cheaper.
Our Price Match Promise.