Bruhl MD2800 Pro Dual Turbine Dryer
Customer Product Reviews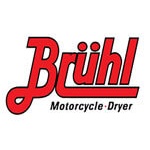 Our price
£204.98
£225.00
View Product Details
October 6, 2021
Excellent
I wish I'd known about this before, an amazing product every biker should own. Essential bit of kit to clear and dry your bike from the damaging effects of water. Powerful well made unit, easy to operate and takes up little space.
October 2, 2021
Great piece of kit
Makes drying bikes and even the car very easy work, more than half's the time of the task and great service from sports bike shop as usual
June 20, 2021
Very nice dryer
Should have got one of these a longtime ago dryes my bikes much quicker and gets into every little space
May 23, 2021
Amazing Kit
This thing is amazing. Bought to blow water out of the ebike. It does just that. With setting one it's got power but with setting two, make sure you have a firm hold of the hose at the nozzle. Serious power. All in all the company was brilliant products amazing and I can highly recommend.
May 7, 2021
Turbine dryer
Great service very happy with the product does a great job
May 7, 2021
Big thumbs up for this one
Very very surprised well made Great product not able to fault it
November 24, 2020
A dry read
Came very quickly and works great. I have never had a dryer before but decided it ws time. Will never go back. Pipe and main body seem very substantial and I would think would last for a long time. I have added bits of velcro to secure the nozzles if not I am sure I would lose them. But not really a negative just my untidiness.
March 5, 2020
I'm a big fan
Great product, well made and powerful.
PLEASE NOTE: The views and opinions expressed in the above reviews are solely those of the author and are not necessarily representative of the views of SPORTSBIKESHOP LTD.