Verified Customer Reviews for Kriega Hydro 3 Back Pack
Top quality
26 January 2022 by Jonathan
Top quality bag as is typical of Kriega, really comfortable and fits well when on the bike. Quad lock system is quality and does exactly as advertised, taking weight off the shoulders. Highly recommend this bag if you're after something you can use all day.

Very comfy
29 August 2021 by Anonymous
Strap design takes all of the weight off the shoulders. Handy pocket big enough for wales/ gels / keys. Top quality product
Total Kriega Quality
15 July 2019 by Spencer B
I purchased this for a 6 day trip around France.
Sportsbikeshop next day delivery ensured I had it in time for my departure.
As with everything Kriega this is a top quality product and absolutely value for money. Especially when you think it comes with the usual Kriega 10yr guarantee.
With the recent temperatures in France this hydropack was a life saver and meant I wasn't having to constantly stop to hydrate.
I was able to fill the back pack with refridgerated water first thing and it stayed relatively cold most of the day.
Meaning I cover 1500 miles in greater comfort and safely hydated. The pack itself is very well made and like other kriega kit I own will no doubt outlast the 10yr guarantee
Good looking
12 April 2019 by Esther C
Initially SBS Milton Keynes didn't have any in stock to try but a couple of days later they had both sizes in. Bought for a trip to Morocco later this year. Having read lots of reviews this appears to be the best. Good idea to try the different sizes available with the jacket that you intend to wear. I'm 5'6'' tall and have opted for the Hydro3
You get what you pay for
17 April 2018 by Thomas S
After buying many cheaper ones over the years I finally bought the Kriega. You get what you pay for, I've a few Kriega products now and none have failed me. Cheaper ones always left a bad taste in the water from new. Noticed the difference straight away with the Kriega and it's a UK company.
Buy it
05 January 2018 by Bradley M
I bought the Kriega Hydro 3 after looking over lots of others and trying my friends on for size and fit.
I mostly use mine for Enduro and greenlaning for both of which it performs excellently.
I'm 6'2 and 98kg with a Forcefield XV shirt on it still doesn't notice you have it on.
It is well made, with good materials, zips are robust.
The only negatives that I could pick holes in, and I really am clutching at straws would be that it doesn't come with the load cord and maybe if your bothered about the high vis safety angle that the scotch reflective material is not effective from what I'm told from people following me.
So to round up it is the best hydration pack I have tried, price is OK, build, fit and comfort are excellent, I would suggest buy it to anyone I know. Ordered mine days before Christmas and it still turned up without an issue.
Great quality as always with Kriega
22 July 2017 by Robin H
I have used different Hydro packs in the past but decided to try the Kriega. Much better than the others, 3 lt. is enough for my needs before refilling. Insulated tube keeps the water from being too hot in high temperatures. All fits together with reassuring quality. The harness is well made and I found I did not need to use the waist straps which meant my jacket vents could work unhindered. Well made quality Hydro Pack.
Perfect delivery even at the worst time of year
14 January 2017 by Ryan H
Excellent service, ordered 30th of December, here by the 3rd, can't complain at all!
Great piece of kit
21 September 2015 by Jerry C
Bought this for touring use. Really handy to have water easily available. Usual Kriega great fit. Very secure and can barely feel that it is there. Can squeeze in a few bits if the bag is not totally filled with water. Rugged construction. Easy to fill and clean. Would definitely recommend.
Best hydration back pack ever
28 July 2014 by Ricardo B
Excellent finish and very comfortable fit. Very easy to fill up and you can wash the water reservoir very easily and put it drying inside out.
I have been using Kriega's hydration pack rucksacks for quite a few years now, because staying hydrated while riding ...
Description
Kriega Hydro 3 Back Pack
400(H) x 170(W) x 70mm(D)
3 litre reservoir capacity
Unique Quadloc harness
Side access pocket
Optional add on 5 or 10 litre dry packs
Optional harness pocket
Removable waist strap
5mm airspace fabric
Schoeller Dynatech with integrated 3M Scotchlite reflectivity
420D nylon rip stop
Lightweight and extremely strong
10 year guarantee
Hydro 3 has been designed specifically as an active riding pack with our unique Quadloc harness system. Providing a level of fit and comfort unequalled by any other hydration system. With a fully adjustable back-length and unrestricted underarm movement. Once set, the pack is exceptionally convenient to use, with none of the harness strap re-adjustment necessary on conventional harness systems. The adjustable back also allows the pack position to be moved up to allow large waist packs to be also worn. Hydro 3 can be worn with or without a waist strap, we recommend to use a wrist strap for maximum stability when carrying the full 3 litre (100 oz) water capacity.
Product Specification
Related Items
Manufacturer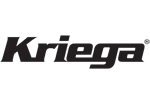 About
Kriega
Designed in the UK by a dedicated team of motorcyclists. Kriega motorcycle backpacks, bike packs and accessories offer innovation, along with the highest standards of functionality and craftsmanship. Kriega kit is built to perform with an exceptional 10-year guarantee on all products.

You won't get it cheaper.
Our Price Match Promise.