Verified Customer Reviews for Oxford Lifetime T40R Tailpack
Excellent service and product
23 October 2023 by Mark
The tail pack is as described.

The quality is excellent as it always is with Oxford products. It came with the additional bungy cords and strapping to attach to the bike. Only thing I might do is put a towel on the seat and under the tail pack just to ensure it doesn't mark the seat. There's no issues with the product, just my preference
Tail bag review
14 August 2023 by Nigel D
Really spacious tail bag, got all my stuff in for a 3 day trip of Wales.
Fixes very well to bag with all fixings supplied with bag
Only small negative is the zip that hold main bag on to the piece that stays on the seat can be a bit fiddly to get on, other than that I am very happy with it.

Well designed tailpack
26 June 2023 by Anonymous
Well designed tailpack, used for a 4 day trip to Spa in Belgium and had enough room to pack trainers, spare visor, base layers, set of clothes, wash bag plus miscellaneous bits and pieces, and could stretch it a little further if needed with the expanding top section. Under seat straps alone keep it surprisingly secure, but with 4 bungees as well it's not going anywhere. Thankfully not tested in the rain, but it seems like it would hold up pretty well, and there's an inner waterproof bag if needed. When away from the bike the main pack can be unzipped from the base unit that stays attached, and carried with the inbuilt backpack straps. Fits perfectly well on a CBR600.
Well thought through tail bag!
10 May 2023 by Jonathan S
Can't fault the design or build quality. Tie straps are bit fiddly to attach but once attached tight there's no need to remove them as the design allows you to unzip the bag leaving the base secured in place. Comes with internal roll up dry bag which is handy although I'm the short time it's been used so far I've had no issue with water getting through the outer. Overall really happy with my purchase. Would recommend!
Great quality and very versatile
08 May 2023 by Colin C
Great product for the V-Strom to store all those little things you need when out on a ride
High quality and versatile
08 June 2022 by Atul B
Needed an extra bag to hold my helmet and lock and this is perfect - comfortable when on the back and also attaches to the quick zip base on the back of the bike. Very sturdy and high quality material and zips. Main reason for purchase was for something to carry my helmet when off the bike and this is perfect.
Roomy & Secure
24 May 2022 by Anonymous
Bought for a long trip and found it to be very roomy with plenty of expansion. Fits securely to my Suzuki GSR750Z. Comes with a waterproof cover and bungie straps.
Nice, subtle kit
01 February 2022 by Tom S
This tail pack works nicely and looks equally at home on a retro cafe racer and a modern touring bike.
The first strap will have you scratching your head and reading the manual but once you've realised how it works the rest will be pretty easy to fit.
There are a few pockets for instant access stuff, a key pouch, a removable waterproof liner, and a few bungees to help with stability. I love that the bag detaches from the base so you can just take your stuff with you (I haven't tried any extra security etc but that might be a small concern, it's not easy to lock in place).
Great order/delivery experience from sportbikeshop as always, thanks very much!
Excellent tailbag
05 August 2021 by Steven G
I bought this bag for a trip to Thruxton BSB rather than a fully loaded rucksack on my back. 40L is the perfect size for drinks, food and clothes. The fasteners hold the bag secure, no movement at all. Very well made. I wish I'd bought one sooner
Good all rounder
21 July 2021 by Joel
Very good indeed. Fitting very easy on my CB650R and a perfect size. Good quality materials are used and looks good too.
I have used it for a 2 night trip, plenty of room. I have even used it for a couple of little grocery shops. If your thinking about getting a tail bag, get one of these.
Top quality bag
11 July 2021 by Vince T
Really good bag, goes on the bike secure and the extension makes it good for weekends away!
Superb Tailpack for quality and value
06 December 2020 by Stephen M
Excellent Oxford quality with lots of space. Simple to fit and the quick realise zip is a great idea. Just leave the base on the bike and use the bag as a backpack.
As usual service from Sportsbikeshop was 1st class.
Well designed & made
20 September 2020 by Miles T
Wasn't sure at first but couldn't believe how much you can get into it really easy to secure solidly to pillion seat well made and ideal for 5 day tour
Brilliant
03 September 2020 by Scott W
Brilliant for the money. Did exactly what I needed it to. Perfect for a night or 2 away or more with the extender. Lots of pockets. And the backpack option is really handy
Handy tail bag
11 August 2020 by Anonymous
Zip off base is superb. Enough room for a weekend away or a trip to the shops. Highly recommended.
Good Quality & Style. Sizeable for a days ride
12 July 2020 by Michael
Easy to fit, good zips. Whilst extended you can fit a full size helmet and nothing else. Usually I carry around a pair of comfortable trainers, your Tesco Meal deal and 2 small disclocks. All Fits without the extension. The bungie cords were definitely needed to go around and hold it in shape. (BE CAREFUL NOT TO SCRATCH THE PAINT ON THE BACK OF YOUR BIKE, whilst using the cords)
Great bag
19 February 2020 by Kaarel N
Very good quality. Fits well on my bike. Strong and solid zippers. Comfortable to take it off the bike as a backpack.
Excellent bag
16 December 2019 by Michael H
Really good size bag with plenty of secure points to fasten to the bike. With the option of extending the bag you could easily tour for a week or so, and the internal waterproof bag keeps everything safe and dry. The base also doubles up as handy storage for small items, puncture kit for example, if just out for the day.
Description
Oxford Lifetime T40R Tailpack - Black
Converts into a backpack
Expandable for increased storage
Glove compartment and external bungee net
Quick release detachment system
Base can be used on its own to carry small items
Electrical port with internal pocket to carry a device
Pocket for keys
Upzip from base for ease of movement
5 point secure fitting system
Secure mounting points
Oxfords X-series bags have been a firm favourite of sports and touring riders for many years, thanks to their unique combination of styling, practicality, construction quality and countless clever features.
Product Specification
Manufacturer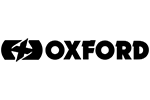 About
Oxford
Oxford was established in 1973 and has grown into a leading global supplier of motorcycle products. Its vast range encompasses everything to improve life on two wheels: from clothing and helmets to accessories, hard parts, locks, luggage and much more. Products are designed in-house by a team of active enthusiasts and skilled technicians, based at the company's purpose-built headquarters in Oxfordshire. With the support of the latest CAD technology, a 3D printing suite and a fully equipped test laboratory, Oxford invents, develops and refines its products in pursuit of the best experience for two-wheel enthusiasts. Oxford employs over 150 staff and has ambitious plans for further growth in both the UK and globally.
Questions and Answers
Questions and Answers
Hi, I was wondering if this pack would fit a Yamaha tricity 125 scooter.

May 22, 2019

Unfortunately as this is a universal product we are not able to advise on specific fitments, apologies.

Can you tell me what the life time guarantee is with this range please and does it cover Zips, which tend to be the biggest problem with bags. Thanks.

May 6, 2019

The warranty covers manufacturing defects only. The liability of Oxford Products Ltd is limited to the cost of repair and/or replacement of the product under warranty. The warranty is void if the defect is caused by misuse; neglect and tampering or if the fitting/ use of the product is outside of the instruction/ guidelines provided by Oxford Products Ltd. It is invalidated if unauthorized persons carry out any alterations and/or repairs. The warranty will also be invalidated in the following cases: A domestic product is used in a commercial environment Repair required to any product where the serial number has been removed/ tampered with Repair to any product, where reasonable wear-and-tear is expected The product is counterfeit or has been used in conjunction with other counterfeit products The product was purchased from an un-authorised reseller

Hello I am interested In the t40 tailbag but would like to know if a lid will fit inside? Many thanks

March 26, 2019

The T40R measures approximately 35cm in length x 32cm width, with a height of approximately 25cm in it's non expanded form. Expanded, the height increases to approximately 32cm. The large internal compartment measures approximately 31cm Length x 25cm width, going down to 20cm width at the narrow end. A full face helmet will fit in the bag, although this would very much depend on model. (There would be little room for other items, if a helmet was placed inside)

Is this Oxford T40R waterproof??

October 30, 2017

The Oxford T40R Tailpack has a waterproof internal liner.

Can you tell me the overall dimensions please and is the main compartment large enough for a full face helmet?

September 22, 2017

The T40R measures approximately 35cm in length x 32cm width, with a height of approximately 25cm in it's non expanded form. Expanded, the height increases to approximately 32cm. The large internal compartment measures approximately 31cm Length x 25cm width, going down to 20cm width at the narrow end. A full face helmet will fit in the bag, although this would very much depend on model. (There would not be little room for other items, if a helmet was placed inside)

Hello Folks, Just come back from a tour of Europe and borrowed an Oxford kit like the one advertised (I think) Has this kit got four straps, one on each corner ? The one I borrowed did and was just the job for my BMW f800gt as they fixed to four points on the bike Regards Dc

August 12, 2017

The base of the tailpack does have four buckles, one on each corner, to strap it down securely.

You won't get it cheaper.
Our Price Match Promise.