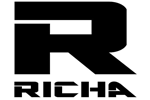 Richa Rain Warrior Trousers - Black
Fully waterproof RiDE recommended over trousers with an elasticated waist
View full details
Verified Customer Reviews for Richa Rain Warrior Trousers
Very good
20 November 2023 by David L
Very good fit and a quality feel. Supplied with a handy bag for easy on bike storage. Unable to rate them higher as I have not had an opportunity to wear them. Good value. Very pleased.
Good product at a good price
17 November 2023 by J S
I haven't used it enough to give it 5 starts, but where I've used it so far, it's worked.

Thank you Sportsbikeshop for your prompt service when ordering.
Good product
13 November 2023 by Harry270664
Very happy with this purchase,
Good quality and a good price.
I would you recommend you purchase the size you are,
And not size to allow for the clothes you will be wearing underneath as I think this has already been taken into account,
I have worn the in a few downpours and have remained dry.
Exactly what it says on the tin
11 November 2023 by Beth A
Along with the other hundreds of reviews on these, i also think these trousers do a great job. I'm a 5ft 2 woman and while they are long, I need it to get my leg over the bike which helps - and the large crotch area allows me to sit on the bike without ripping them. I got xs. My leather pants underneath were dry and kept warmth from the wind during my training and I could get them on over my Alpinestars smx6's. Really convenient, great price and quality. Will buy again when these need replacing!
Awesome
09 November 2023 by Anonymous
Stayed dry in really heavy downpour. Worked perfectly.
Recently purchased
31 October 2023 by Dave H
Really pleased with my recent purchase from Sportsbikeshop
Keeps You Dry
30 October 2023 by Chris
Brought these for my son to use on his CBT. Rained all day and never leaked a drop, packed drown nice and small when not in use. Good fit accurate size. Great value waterproofs
Great waterproof trousers
20 October 2023 by M H
Great waterproof trousers, fit perfect as over trousers, comfortable and fully waterproof
Quick post
Perfect
12 October 2023 by Anonymous
Perfect, goes over my jeans
Good
08 October 2023 by Anonymous
Better quality than expected
Nice and big so will go over your overpriced adventure pants that turned out not to be waterproof!
Richa waterproof trousers
25 September 2023 by Steven W
Excellent item really pleased with them wore them the other day in torrential rain legs stayed completely dry was really impressed and usual Excellent service from sportsbike shop always my first point of call when I need anything
Bit baggy, but that is the point
21 September 2023 by Richard B
Easy to get on, pack down small, waterproof. Ticks all the boxes. The only issue is that they flap about a bit.
Excellent piece of kit
17 September 2023 by Roy C
Bought these trousers a bit last minute, read the reviews and thought I would give them a go. Not disappointed, easy to put on, fitted true to size. Did a 850 mile round trip to Normandy and on one occasion it chucked it down my jeans were totally dry, excellent
Perfect fit and very comfortable
12 September 2023 by Big D
These Richa rain trousers are a great fit, well made, comfortable & true to size. Easy to pull on over my riding jeans.
Waterproof overtrousers
04 September 2023 by Gary T
Used for four hours in a heavy downpour, no leaks. Easy to get on and off.
Good quality
02 September 2023 by Paul H
Not tested in heavy rain so far, but initial impressions are good. The construction feels and looks well made, and they are comfortable to wear on the bike. I've not yet had cause to test them out in heavy rain, but have worn them in light rain and showers, where they performed well. Easy enough to get on and off whilst hopping about on one leg. The velcro leg adjustment is a good idea, but I would prefer to be able to tighten them a little further for a snug fit at the ankle. They are a little too bulky to store under the seat of my bikes, so I have to put them into my luggage, which is a slight inconvenience as I don't always want to ride with luggage fitted. Overall, I'm very happy with the Rain Warrior Trousers, and they are great value.
Pants
01 September 2023 by Anonymous
Fit well, prefer the Velcro to a zip. Not yet deployed, cannot rate for water tightness.
Good quality
30 August 2023 by David O
Feel a lot better than the Oxford rainseal they replaced. Easier to get on and off (no more falling over in car parks). However not yet tested in anger so hopefully no wet crotch in a downpour.
Press Reviews for Richa Rain Warrior Trousers - Black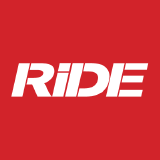 RIDE July 2013 Issue
Description
Richa Rain Warrior Trousers - Black
Designed to be worn over jeans
Fully waterproof PVC construction
Provides noticeable wind protection
Comfort-stretch elasticated waist
Lightweight and easy to store
Comes supplied with a mesh bag
Richa logo and text is reflective
RiDE recommended and tested
Size Guide

| | XS | S | M | L | XL | 2XL | 3XL | 4XL |
| --- | --- | --- | --- | --- | --- | --- | --- | --- |
| UK WAIST | 28 | 30 | 32 | 34 | 36 | 38 | 40 | 42 |
| EURO WAIST | 46 | 48 | 50 | 52 | 54 | 56 | 58 | 60 |
Product Specification
Matching Jackets
Manufacturer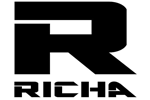 About
Richa
As a range, Richa motorcycle clothing has it covered with an extensive collection of both textile and leather garments to suit all types of rider. The brand consistently delivers both quality and style, without a hefty price tag attached. With over 10 years experience of producing product without compromise, Richa will undoubtedly continue to grow, particularly as it's range is constantly evolving to take the latest biking trends into account. As one of UK's most popular brands, you'll always find us featuring the entire Richa motorcycle clothing range particularly as it achieves one of our highest levels of customer satisfaction, just check out the reviews!
Questions and Answers
Questions and Answers
Do you think a size Small will fit over my Medium size riding trousers?

October 7, 2019

Previous customer feedback would suggest that a size medium would be suitable for your medium riding trousers.

Are these unisex?

April 10, 2019

They are, but Richa also make the Ladies Rainpants which we stock.

Reading other people's questions you say the trousers and jacket are designed as over garments. To clarify that. I wear waist 34 jeans but would have bike trousers that are not waterproof but give me protection in event of a crash. Would I buy your waterproof trousers also in size 34 or allow for my bike trousers and buy size 36? Thanks in advance

December 10, 2018

Previous customer feedback would suggest that a 34 inch waist would be suitable.

hi I'm a 34 waist 28 leg could you advise what size I would need please

May 10, 2018

With a short leg not being available in these jeans, this would suggest the large size. Although you may have a small amount of excess material when stood up, this should be taken up by the riding position when on the bike.

Do these come with a stuff it bag?

September 15, 2017

The Richa Rain Warrior trousers come with a small net bag that can be used for storage.

Do these trousers have any material under the waterproof layer to help keep the legs warm on particularly cold days? Or are these quite a thin material?

August 7, 2017

These trousers have no thermal liner in them although their construction will deflect the wind slightly.

Could you let me know please the inside leg dimension on both the 32" & 34" waist of these please?

August 4, 2017

The 32" waist has an inside leg of approximately 29" and the 34" waist has an inside leg of approximately 32".

Could you tell me the inner leg length of the XS and the leg width ? Thank you.

November 12, 2016

The inside leg measurement on the XS is approximately 28 inches,and the leg width(at the thigh) is 13 inches

I will be wearing them over heavy motorcycle pants. what size should i go for? I would assume that they are designed to go over heavy pants?

October 29, 2013

The Richa Rain Warrior trousers are designed oversize as standard. We do find customers occasionally opting for a size above,to give the option of wearing extra layers beneath during colder temperatures.

Could I ask what the leg length is in the size XL?

November 22, 2012

The inside leg measurement in the XL Size Richa Rain Warrior trousers is approximately 34 .

Is there a zip along the leg to get them on and off easily?

December 19, 2011

The lower leg point is expandable and adjustable via velcro strips.

I am interested in a pair of these in 42 waist but can you tell me the inside leg measurement>?

July 4, 2011

The inside leg measurement on the XXXXL is approximately 34 inches (86.5cm)

You won't get it cheaper.
Our Price Match Promise.