Verified Customer Reviews for Shark Spartan GT Carbon Skin
Excellent helmet
12 December 2022 by Jose M
Excellent helmet. My first Shark after many years using Shoei. The helmet is fantastic. Very good workmanship, confortable, fits perfectly on my head. Comes prepared for the communication system and with easy fit for glasses. On the road it has a good behaviour, noise and aerodynamic wise. As always another good package from SPORTSBIKESHOP and product delivered superfast.
Shark Spartan
15 June 2022 by Rob R
The ordering and delivery was excellent from Sportsbikeshop, with regular updates on when and a delivery time. The helmet itself fits well (I am a medium) providing good resistance to wind noise. The vents provide good ventilation and the cheeks pads hold your face tightly, but with comfort. The included sun visor is excellent and its operation via a top slide is simple and easy to get to with gloves on and whilst in motion. The pin-lock and visor provide a good field of vision and do not mist up. I chose this helmet as it had a number of options I wanted (mouth guard, integrated sun visor, Bluetooth inlets, god vents and button and slides that could be operated by gloved hands) . The weight is reasonable and allows the helmet to be worn on long rides, and the lining is removable for washing. A great value helmet, plenty of extras and reasonably priced.
Shark Redding replica
07 June 2022 by Paul T
Very comfortable . Quiet on the road . Hardly any wind noise . Internal sun visor can fog up occasionally but when used antifog treatment . No more problems . Excellent price & service from sportsbikeshop .As always.
Great helmet
07 October 2021 by Paul M
Bought to replace my old Shoei gt air , lovely helmet with plush interior. Great looking, nice smooth visor operation & internal sun visor . Easy to fit Bluetooth headset , first used on weekend trip round wales . Nice comfy helmet.
Style: Tracker Carbon / Blue / Red
Great Helmet
20 September 2021 by Anonymous
Very comfortable, light weight, good fit and works well with glasses. Build quality is good. Looks nice. Fair price for what you get.
Style: Tracker Carbon / Blue / Red
Great
05 August 2021 by Murray W
As always the shark Spartan helmet gives great quality light comfortable with wide vision, the new tags attached to the inners makes it easier to detach if needs be. Only gripe I have is the top of the visor is slightly noticeable whilst wearing but that's a very small gripe. All in all great helmet thanks sportbikeshop fast delivery as usual.

Style: Shestter Carbon / White
Comfy but a little noisy
28 July 2021 by Steve F
Great product which is very comfy and well ventilated. The In built sun visor is good and easy to use.

A little noisy at motorway speed but no problem with ear plugs.
Great looking helmet
24 July 2021 by Nigel C
Great looking helmets very light and a great fit nothing to dislike about this product
Great helmet
26 May 2021 by Anonymous
Really well made with great features. Extremely light.
There is some wind noise but it's ok.
Style: Shestter Carbon / Red / Anthracite
Shark Sharp
22 May 2021 by Anonymous
Great fit and comfortable. Did a three hour ride and headache. Well better than my Arai . Also easy to fit intercom.
Heat deal from Sports bike shop . £100. cheaper than M & P
Style: Shestter Carbon / Red / Anthracite
Light weight helmet
05 May 2021 by Anonymous
Great helmet that has everything i value in a helmet.
Would of received a top mark except slightly noiser than compared to my old schuberth and a bit fiddly to open visor with gloves on, but i am sure i will get used to it.
Style: Shestter Carbon / Red / Anthracite
Great service, as always
11 April 2021 by Richard T
Very easy to find what I wanted, smooth transaction, very fast delivery

The helmet is as I expected, perfect fit & quality, very good value for money

Spartan GT
08 March 2021 by Stephen H
I purchased this thinking it would be a good upgrade to my shark Spartan carbon.
However the design of the visor is frustrating. The button to release the visor is to small. If you have thick winter gloves on it is a complete pain to open.
You cannot fit a Bluetooth head set as there is no room for it to be mounted between the shell and padding. My other shark you could thread the wires underneath the soft padding. This one you cannot do that. (Hard to explain) but you can not fit a device. Wish I had seen one first and tried on.
It looks great. It now has a clip on chin curtain. This makes getting the helmet on and off a real squeeze so I have left mine off in order to not rip my ears off. What was wrong with the old deign?

The quality from shark is great but these things add up for me. Wish I had tried one before buying. Now it's too late.
Style: Tracker Carbon / Blue / Red
Excellent!
18 January 2021 by Matt W
This is my 3rd Spartan by Shark. The previous being the Spartan carbon which saved my life in a crash on Christmas Day. I won't be buying from any other brand after that as shark have my complete trust. The colour and comfort of the Spartan GT is great and the addition of the locking visor has reduced wind noise slightly. I ride an MT10 so wind noise is always an issue anyway.
Style: Shestter Carbon / Red / Anthracite
A Shark is a good friend
12 January 2021 by Mike N
My new new Shark carbon is a great buy. The fit is excellent for me. The quality of the padding is excellent and comfortable. I love the graphics and the design of the exterior. The helmet is fairly quiet. A great choice.
Style: Tracker Carbon / Anthracite / White
It's exactly as stated love it.
02 January 2021 by Mike S
Really pleased with what I ordered and was an easy process . I had already tried it on in a shop here in ireland so I knew my size I was. It was cheaper to get for me through sports bike shop and was Delivered within 2 days also which was great. Will be a returning customer. A+++ service. Only down side was it was delivered through dpd and as I wasn't home as at work I got a text to say package would be delivered between 12.45 and 13.45 which I hadn't seen so left work got home at 14.30 and found my order left at my door out in the open. I had thought I had missed them and was expecting to get letter in postbox saying collect order from depot. I know this isn't sports bike shops fault. My issue would be with dpd.
Style: Tracker Carbon / Blue / Red
Comfy warm and one of the best helmets ever
16 December 2020 by Jamie B
Excellent helmet from shark what is very comfortable and a really nice snug fit, I purchased a size medium but found it too small so i would recommend to anyone purchasing one to try a size up, i returned the item and the service from sportsbike.co.uk was prompt and I received my size exchange extremely quickly
Style: Kromium Carbon / Blue
Very nice
13 December 2020 by David M
Very comfortable and reasonably quiet helmet, looks good quality too. Just wish it wasn't a D-Ring faster but I'll get used to it eventually!
Press Reviews for Shark Spartan GT Carbon Skin - Urikan Anthracite / White
Description
Shark Spartan GT Carbon Skin - Urikan Anthracite / White
Composite fibre construction
Multi-density EPS
Max Vision Pinlock insert included
Internal dropdown sun visor
Dual air intakes on the front of the helmets
Emergency release cheek pads
Removable and washable lining
Double-D ring retention strap
Available in two shell sizes
5 year Shark warranty (with registration)

The Shark Spartan GT is a fibre composite full face helmet, featuring Shark's latest innovations and expertise acquired over the years. The combination of fibre and carbon layers, associated with the multi-density EPS, offers the highest level of protection. The Spartan GT has extended boundaries in terms of both safety and comfort, with the aim of satisfying expectations voiced by the most demanding racers.
Product Videos

Shark Spartan GT Carbon review
Product Specification
Variants
Visors and Pinlock Inserts
Manufacturer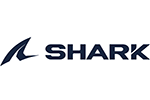 About
Shark
With over 25 years of experience in the production of motorcycle helmets, it's no wonder that Shark is rapidly becoming one the world's most dominant biking brands. Now trading in more than 45 countries, Shark employs over 600 people and continues to operate from its headquarters in Marseille, France. Their desire to push technical boundaries in order to create innovative products still remains today, despite this colossal level of expansion. Shark has always believed in perfecting their products using the ultimate testers available, motorcycle racers from the world's most prestigious championships. With names such as Carl Fogarty, Randy De Puniet and Scott Redding on the testers list, it's easy to see why Shark helmets are becoming the default brand of choice for many bikers today. This development through racing has led Shark not only to focus on comfort and innovation, but ultimately to focus on safety.

You won't get it cheaper.
Our Price Match Promise.