Givi E145 Reflective Serigraphied Stickers
Customer Product Reviews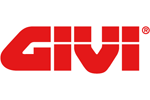 View Product Details
December 27, 2018
Perfect fit, feel high quality
Fits my Tiger 800 panniers (part #A9500601) perfectly, with about 1/2 inch clear around the edges - I think a slight gap is better as it reduces the chances of it coming off it you brush against the panniers. Feels nice and thick compared to others, so suspect it will last longer and put up with the elements (and washing) better.
September 17, 2018
High quality, really reflective sticker
Looks great, does exactly what it should. There are two stickers in the pack, as expected. Feel thick, durable and highly reflective. Not just a pointless sticker. Sticks on well and feels like a high quality product; exactly what I expect from Givi. My only note would be don't expect it to fit vertically on a 46l Givi Dolomiti topbox. Although not what its listed to do, I took the risk anyway and found the sticker is a little too tall for it. I just ended up putting each sticker on horizontally and bent them around the corners. I still think it looks great and increases chance of being seen in the dark on my black MT-07. So I'm still very happy with the purchase.
PLEASE NOTE: The views and opinions expressed in the above reviews are solely those of the author and are not necessarily representative of the views of SPORTSBIKESHOP LTD.