Verified Customer Reviews for Kriega OS-32 Soft Pannier
Adventure luggage
24 July 2023 by Martyn W
The OS system bag is great, I've broken some cheaper alternatives and thought it was time to get the best.
The straps to attach to the bike are Extra at £42 which is steep for a strap
Great Bags
24 April 2023 by Christopher
Not the cheapest but I guess you get what you pay for. These are top quality soft panniers from a trusted manufacturer. Once you have a few I think you are in the Kriega ecosphere.
Not tested yet, but...
12 October 2022 by Jason C
On the face of it the quality looks very good. I have a smaller pillion bag that I have used a number of times, and that is still going strong. The straps did become frayed, and I lost one (how it came off I have no idea). I have given this 4 stars as I have not used yet, but also because there probably should have been some bottom corner hard nylon protectors. Maybe an accessory the size of the base footprint that could utilize the 2 bottom straps to keep in place? When not in use, can just be tucked inside the folded pannier. I'd consider buying that if not too expensive.
Excellent panniers
30 May 2022 by Mark W
I've had a Kriega rucksack for years which has stood up to daily all year round abuse. So, when considering new luggage Kriega we're going to be a consideration, I even equipped my bike with outback motortek xframes in anticipation! My main concern was ease of use having always had hard panniers. I needn't have worried. Easy to mount and dismount, I've barely thought about it on their first weekend away. The quality really does shine through and the price which I consider on the high side, actually looks a bargain now. Very easy to unload and load through the roll down top with the added bonus of a slimmer profile when empty if you want to leave them on. I've tried to think of negatives but I really can't. Highly recommended, I'm about to buy 2 12 litre OS bags to add capacity and versatility! Well done Kriega.
Kriega quality.
02 January 2022 by Sean M
Kriega quality is top quality, no doubt about that. I love my hard panniers as they are a simple click and lock mechanism but I prefer these soft panniers. They are fiddly to get on the bike but are fully waterproof, safer for the rider and look cooler!
Great Panniers
15 December 2021 by BAC
I've recently changed my bike from a Ducati Multistrada which hard panniers to a KTM 1290S SA which came with no panniers so needed a set of panniers that had good reviews, were robust and easy to install/ remove when travelling on our overseas trips. I did loads of research and even visited our local Sportsbike branch in Bristol to get hands on the panniers to see what they were like and how big they were. I was really impressed and chose the Kriega (I also have a number of other Kriega products as well so know the quality).
These panniers feel like they are bombproof, even more so than the other Kriega bags I have. They are extremely well made, very tough and yet a simple design which is easy to fit, access and secure. I went for 2 x 32ltr as that will be more than enough carrying capability without having to squeeze stuff in or add additional bags etc.
I have decided to buy the Motortek rack to secure directly to the bike however, these aren't available as yet due to my bike being new and Motortek not having the design completed and on the market. I'm told it will be soon.
To sweeten the deal, I waited to Black Friday and saved £100 on the cost for 2 panniers so very happy. As usual, excellent service from Sportsbikeshop.
Kriega OS-32 Soft Pannier
27 August 2021 by Chris
I have tried lots of Soft Panniers, these are the best I have used. Thought they might be a bit large for my Triumph Scrambler. But once installed they look great. They take a lot, as well and open out to take all my stuff. Totally waterproff, even going through deep water of road. Nice to look in and find evey thing dry for a change. In 55 years of using panniers these are the best.
Quality and well designed product
29 July 2021 by Louis
Been looking at soft panniers for awhile and done the usual of watching and reading all the reviews. I wanted something that I could swap between bikes easily and would take a beating if (when!) they are dropped off road. Liked the removable waterproof liners and being white easy to see inside. Although will get dirty quick are simple to wipe clean. Overall quality looks really good and expecting years of use. What swung it for me over other options was being able to fix directly to Outback Moto frames without the need of a mounting plate. 10 year guarantee for peace of mind. And then Sportsbikeshop put a discount on them… Usual faultless service from Sportsbikeshop.
Practicality and quality of build in one package.
23 April 2021 by John F
Never used Kriega products before, but after extensive researching went for their OS-32 soft pannier. Impressed with the quality of build, materials used and functionality.
Coolest looking bike luggage - EVER
04 March 2021 by Paul H
I only wanted to buy soft luggage for my bike and I only wanted to do this once. I have owned a Kriega R25 for 20 years and it is still going strong. I expect the OS-32's to deliver on that basis. I bought the mounting plate, the steel security, the Motech frames and the Kriega over-the-seat straps for extra piece of mind and I think I may even buy some more Kriega gear to go on the rack!!! The bike rack, that is :) I echo the other comments here and to add that SBS were a great biz to buy from, too. Well stocked and super-quick delivery.

kriega panniers
08 July 2020 by Anonymous
Great piece of kit , keeps the water out looks like it will last .
fast delivery and also best price i could find .
What a great bit of kit
24 June 2020 by Ken F
Having had my other Kriega 20 bag for years now I knew These soft panniers would do the job. They look great are durable And 100% waterproof
First class
06 December 2017 by Per C
Seems very well made and durable.
Simple attachment and easy to use.

Can't wait to try it out in the spring.


Durable and accessible
14 November 2017 by Robin H
Bought these as an alternative to Hard panniers for off road trips on my 990 adventure. I chose these to replace my Magadans as I liked the idea that there are no straps over the seat for easy access for maintenance and to my tools. In addition I have just returned from a 3 week trip to Morocco and they performed flawlessly. Was great just to remove one pannier to take into hotels/ferry etc. I used the additional lock straps for peace of mind security. I also bought the additional over the seat straps just incase I had issues with my pannier frames. despite a few offs and lots of fresh fesh the panniers remained intact and the contents free from water and sand. Great luggage set.
Lets see
19 July 2017 by Alan H
I'm off to Romania next week with these panniers, so cant give a full review yet, but with the fitting to the bike, and several practice rides, all is good with the panniers. Easy to fit, and can also strap on my old Kriega drypacks to the top, rear and front, very versatile. Not wet tested yet, but inner liner bag and fold over closure will surely keep the rain out. Recommend buying the steelcore security straps for security, as they are expensive panniers, and don't want to lose them.
Description
Kriega OS-32 Soft Pannier
The Kriega OS-32 Soft Pannier has a structured box shape which allows for effortless packing and load control. With a 100% waterproof roll-top closure and removable white liner, guarantee pack contents remain protected from the elements. The reinforced handle assists in carrying heavy loads off the bike. The Kriega OS-32 Soft Pannier also features a security cable block provides a solid mounting point to cable-lock the pack to the bike frame.

Fitting Instructions
Hypalon 1000D Cordura construction
400(H) x 420(W) x 190mm(D)
32 litre capacity
100% waterproof liner
Roll top closure
Reinforced carry handle
Shoulder strap loops
Aircraft grade alloy buckles
Aramid fibre webbing
16 hook on points
Hi-vis detailing
Product Specification
Related Items
Manufacturer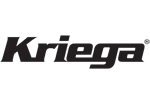 About
Kriega
Designed in the UK by a dedicated team of motorcyclists. Kriega motorcycle backpacks, bike packs and accessories offer innovation, along with the highest standards of functionality and craftsmanship. Kriega kit is built to perform with an exceptional 10-year guarantee on all products.

You won't get it cheaper.
Our Price Match Promise.