Verified Customer Reviews for Shoei X-SPR Pro
Description
Shoei X-SPR Pro - Gloss White
6 Ply Shock-absorbent fibre shell in AIM+
Modular EPS liner system with multiple densities
Mist-retardant CWR-F2R Pinlock® visor
Double secured visor lock system.
Vortex generators for advanced aerodynamic performance
E.Q.R.S. security system (Emergency Quick Release System)
Double D-Ring closure
Adjustable interior for optimised fit
Fully removable and washable interior pads
High-performance ventilation with 7 closable air inlets & 6 air outlets
Innovative cheek vent system
Pinlock insert included
Sophisticated aerodynamic system
Rear stabilizer with flaps to provide stability during braking
A lower air spoiler reduces drag and lift
ECE 22/06 - FIM homologation

Shoei's X-SPR Pro helmet is designed to perform in the fastest and most demanding environments of motorcycle racing. With aerodynamic excellence at speeds exceeding 200mph and safety supremacy with approvals to both FIM and ECE 22.06 standards you know you're in safe hands with the X-SPR Pro. Its lightweight AIM+ shell material, superior airflow through seven intake vents and six outlets and high-quality CWR-F2R race visor put the X-SPR Pro at the top of the racing tree. The fully removable interior can also be adjusted to suit road or race riding and can now be tailored to provide the ultimate fit around the head by adding optional parts.
Product Videos

Shoei X-SPR Pro helmet review
Product Specification
Variants
Pinlock Ready Race Visors
Free Items
Manufacturer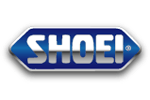 About
Shoei
Shoei manufacture all of their products using the keywords quality & value, and have used these criteria ever since they began manufacturing motorcycle helmets in January 1960. The Shoei helmet brand has always been at the forefront of motorcycle helmet technology since its creation, and continues to lead in terms of technical innovation, design, and safety. With over 50 years experience, they continue to manufacture the entire Shoei helmet range in Japan to this very day. Whilst the brand can undoubtedly be described as premium, Shoei helmets offer fantastic value for money when you consider the serious levels of comfort, build quality and technology that go into every helmet they produce. Shoei develop all of their bike helmets with a specific philosophy in mind which they call the Shoei Safety Concept. The thinking behind their philosophy is that crash helmets must be developed to ensure maximum head protection, whilst also providing unrivalled levels of comfort. Ultimately, Shoei believe that a relaxed ride provided through comfort makes a highly important contribution to the rider's safety. The safety elements of each bike helmet come under one of two headings, Passive or Active Safety. Passive safety includes focus on such elements as impact absorption and material rigidity whilst active safety refers to emphasis on ventilation, fit and noise reduction. Shoei are now, truly, one of the most popular and most highly rated helmet brands in the world.

You won't get it cheaper.
Our Price Match Promise.