Richa D3O Protectors - Central Back
Customer Product Reviews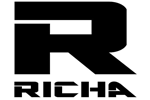 View Product Details
June 29, 2022
Excellent service
Although the product was at first not readily available I was always kept informed of its progress. Good communication equates to good service
November 15, 2021
Richa D3O Protectors - Central Back
Back protector easily fits into summer jacket and D30
May 27, 2021
Fits Richa Storm jacket..
Perfect fit and comfortable. Hope never to need it in earnest but nice to have it there.
January 19, 2021
Perfect for my Richa Leathers
Light weight, flexible. Strangely gets very stiff when cold, but super flexible when warm.
March 13, 2019
Does the job, fits everything
Thankfully I haven't tested it yet and I hope I never do! However, it's comfortable and fits perfectly in both my Richa leather and alpinestars t-jaws textile jacket. Good price too.
November 29, 2017
A must have
Perfect fit. Incredible comfortable armor.. A must have with every Richa jacket!
January 31, 2017
Great product
Fits like a glove in my Richa Scrambler jacket and is almost unnoticeable.
December 22, 2016
Good armour
Not a bad piece of armour. It's not as good as the likes of the Alpinestars twin compound item but is D3o, protective and comfortable.
December 6, 2016
Excellent product
Perfect upgrade for my Richa leather jacket.
May 3, 2016
Great upgrade
I bought this to replace the standard back support in the Richa Bonneville. Fitted perfectly and gives a hell of a lot more protection than the standard back support.
November 12, 2015
Perfect
In a Richa Triple Jacket, you don't even notice you are wearing the protection. Light and comfortable.
October 15, 2015
Instant upgrade
I bought this to replace an older and less effective type of back protecter in an older Richa jacket that I own. The new D30 armour is lighter and less bulky than the original. Being a Richa specific replacement also means it fits perfectly in the pocket.
July 8, 2015
Back 2 essentials
Light as a pint of lager on a sunny day, tough as Serena Williams in a final match.....
PLEASE NOTE: The views and opinions expressed in the above reviews are solely those of the author and are not necessarily representative of the views of SPORTSBIKESHOP LTD.