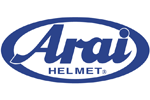 Arai I Type Pro Shade Visor System - Road Legal
Customer Reviews
for Arai I Type Pro Shade Visor System - Road Legal
Press Reviews for Arai I Type Pro Shade Visor System - Road Legal
Description
Arai I Type Pro Shade Visor System - Road Legal
Genuine Arai part
Complete system, mounted on clear Max Vision Pinlock visor
Enhanced aerodynamics
Increased helmet stability
Removable peak for easy cleaning
No contact with visor: no scratching
Fits all Arai SAI type full face helmets
Lever Release System
Aerodynamic with De-mist visor lock
This is a genuine Arai Pro Shield visor to fit the following helmets: RX7 GP, Quantum, Quantum ST, Rebel, Chaser V, Axces 2, Axces 3, Debut

With the new Pro Shade System, Arai now introduces a (patented) revolutionary solution to a well known problem: sun glare! It is nowadays quite common to use a retractable sun-visor that is situated between the helmet's outer and inner shell to protect against sun glare. However, it's Arai's opinion that this construction could affect the performance of a helmet during impact. As the Pro Shade System is completely mounted on the outside of the helmet, it will not in any way negatively affect the performance of the helmet. It also confirms to Arai's R75 Shape concept.

The Pro Shade System is a small peak that is locked in position. Unlocking is easy; just pull the shade peak forward. Than it can be flipped down with a flick of the hand, to perform as an effective sun-visor. The Pro Shade System is the complete all weather system for serious touring riders, offering protection against: sun glare, fogging and misting. Especially for riders that prefer an upright seating position and/or the comfort of a fairing, the Arai Pro Shade System will enhance the rider's comfort significantly.
Pinlock Insert
Manufacturer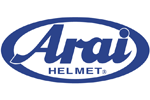 About
Arai
If there's one brand you can rely on in the fast moving world of motorcycling, it's Arai. Since 1937, this family owned company has committed itself to one goal, making the very best helmet possible.

Arai have consistently provided the ultimate in motorcycle helmet safety, comfort and quality thanks to over 20 years of effort in MotoGP, World Superbike and every other conceivable form of motorcycle racing, at all levels. Every single piece of knowledge learned on the racetrack is put to good use in the development of product, helping to protect every one of Arai's customers on the road, the world over. There truly is no such thing as a cheap Arai helmet.

So while many things change, one truth will always remain. If you want the ultimate motorcycle crash helmet there is only one choice, Arai Helmets.
See all Arai products…
Questions and Answers
Questions and Answers
Does this system come with the pinlock insert? And how much for P&P? I'm looking for a replacement on my Quantum ST, the previous Pro Shade scratched the main visor on the bottom edge.

April 27, 2019

A Pinlock insert is not included. Postage costs will depend on where you are situated, but will be shown once you have selected your delivery destination from the drop down menu.

You say this fits an Arai Axces 3, but there are two variants, does it fit the sai max vision version as well as the earlier sai version.

September 24, 2018

The Pro Shade system fits the Axces 3.This listing is for the complete system, mounted on clear Max Vision Pinlock visor.

Hi does the visor come with a pinlock ? and it does fit a 2017 quantum pro

August 20, 2018

A Pinlock Insert is not included. This visor will fit a Quantum and Quantum ST, but not an Arai QV.

Price and availability on pro shade system to fit Arai rx7v also colour and availability on longer visor, seen one on internet that reaches down lower.

May 17, 2018

We only list the one Pro-Shade visor that is compatible with the RX7-V and we currently have them in stock.

Does this fit the chaser x ? Regards

March 24, 2018

The Chaser X requires the Arai VAS-V Type Pro Shade Visor System. The I type will not fit.

Is there a Pro Shade that will fit a Viper GT?

March 14, 2017

We do not stock or list this item for the Viper GT.

Does this also fit the new Axces 3?

February 24, 2017

The Arai Pro Shade Visor System - I Type will fit the Axces 3