Verified Customer Reviews for Kriega Drypack Tail Bag
You get what you pay for!
20 November 2023 by Mark T
Cracking little bag and finally a bag that fits the small seat of a sports bike. Plenty of room for waterproofs, spare gloves, tyre kit and tools. The inner lining bag proved to be waterproof as it did 130 miles in the heavy rain yesterday and the contents remained dry. The external zipped pocket let some moisture in but it doesn't claim to be waterproof. Already got my eye on the US30
Quality versatile waterproof luggage
11 September 2023 by Anonymous
Great luggage system that fits just about any bike. I've used this with additional drypacks on the rear seat, and as extra storage clipped to an R20 backpack. 10 year guarantee too! Can't fault it.
Quality Product
03 September 2023 by Paul E
This bag is high quality from Kriega as you'd expect and a great addition to a growing arsenal of Kriega products!
Kreiga Drypack 10ltr
23 August 2023 by Steve B
Excellent product, I also have the 30ltr. Strong, Durable, long lasting & 100% waterproof. Highly recommended

Quality as usual
15 August 2023 by Neil W
Good to see that Kriega is still excellent quality having had a US20 for the last 4 years or so needed some extra space for a trip up to Scottish islands. Glad to say did not disappoint 100% waterproof and is a genius idea. You get what you pay for with this- Brilliant.
Great Quality
17 July 2023 by Rab T
Fits really well to bike. Ideal for carrying waterproofs, small toolkit, etc.
Really well made
15 July 2023 by Louise
Had my 20 litre one for years and use it every day for commuting and love it. Got the 10 litre for going away to add to the other or if only need a few bit and bobs.
Brilliantly made as always BUT really disappointed it doesn't have a small grab handle to make it easier to carry. Apart from that it should easily last years!!
Get What You Pay For
01 July 2023 by Nick G
This Drypack isn't the cheapest but it oozes quality. Bought as a tailback to cover passenger seat of my Tiger 900 gt pro and holds a puncture repair kit, air compressor, towel and toolkit with ease but is small enough to not only look good but to cock your leg over getting on/off the bike. Straps are a doddle to fit and it's totally secure on the bike. Brilliant product and incredibly functional.
Ideal bike storage
20 May 2023 by Andrew P
Just what I needed to carry essential kit like waterproofs, helmet lock, disc lock etc. very robust material and should last a lifetime. Expensive, yes, but you get what you pay for.
O.M.G
09 May 2023 by James W
For my Short Journey I had from Guernsey to the Uk and on to an small village outside Seven Oaks near S.E London, fitted beautifully on the back of my BMW S1000rr HP4 Carbon did not even need a rucksack I fitted everything I needed in my luggage, Awesome bit of kit and waterproof too even though it did not rain. Will use it all the time as long as it does not rip or tear, looks like it's very robust also. So very good and tough also.
Feels indestructible
29 March 2023 by Craig D
A little awkward to fit and a touch smaller than I'd expected, but it feels like it will outlast the heat death of the universe.

I was a little apprehensive about the fittings surviving the bumpy British roads, but a few hundred miles in and it's not budged.
Not cheap but worth it
10 March 2023 by Nicky
I've used Kriega bags for several years and I bought this one in addition to the ones I've got as you can add to them for extra storage. These bags aren't cheap but they do just work and last. I've never ever had one leak even in downpours lasting hours. The US10 also fits an amazing amount of kit in it and it's quick and easy to fit once you've fitted the securing straps. It'll fit almost any bike too. The bags look/fit better when full as they are soft but you can still carry them empty. The only real negative is that unlike a zipped tail pack or tank bag it's not quite so quick and easy to access the contents once loaded. The bag is a great quality product very tough material which is easy to wipe clean when it gets muddy. I think you get what you pay for with Kriega.
Kriega US 10 Drypack
20 September 2022 by Douglas W
Good to see that Kriega is still excellent quality having had a US20 for the last 4 years or so needed some extra space for a trip up to Scottish islands. Glad to say did not disappoint 100% waterproof and is a genius idea. You get what you pay for with this- Brilliant.
Kriega quality
25 August 2022 by Batesie
Top quality as usual from kriega. Bought this to use on casual rides instead of my R25 rucksack. Was unsure of which size to get but can confirm that this is perfect for a hoodie and a waterproof jacket and trousers. Really easy to fit on my naked Honda pillion seat and looks great.
Worth the Price
02 July 2022 by R J
I was a bit hesitant to buy this because of the price but the reviews swayed me. I'm glad they did! It's a great bag.
- Secure when riding.
- Easy to fit, even to a GSX-R with very little room under the rear seat. Only downside is it can be a bit fiddly to attach/detach when it's only half full.
- Doesn't compromise on aesthetics for practicality (as a sports bike rider, this was big for me!)
- Completely waterproof, having ridden through a couple of nasty storms.
- Doesn't get in the way when riding.
- Good volume, easily holds full gym kit + shower with plenty of room to spare.
Great bag - tempted to get another
30 June 2022 by Nick B
A big step up from strapping miscellaneous bags to the rear pillion seat/frame with bungee chords that abrade paintwork.

I've had Kriega rucksacks before and the quaility of all their products is excellent, justifying a relatively high cost. The designs seem well thought out - even the straps all come with a couple of clips to lash loose ends from flapping in the wind.

Should last for years which is good as the great modularity of the tail-packs invites further additions.

I successfully fitted the US-10 tail bag to a 1996 Mk. 1 Speed Triple and a 1986 Yamaha SRX600. As long as you can find somewhere to secure the four sub-frame loop straps you're good to go. However, if you have more than one bike in use then you will need additional sets of four straps. Don't make the mistake of buying the add-on pack containing the sub-frame loops and the metal clip bag straps as a set if you don't want the latter - the sub-frame loops are available alone in a set of four at about 1/3rd of the cost if you look around.
Good buy.
08 May 2022 by Jonothan L
A shoulder strap would've got it a 5 star. Odd because the 20 does come with one.
Excellent
05 May 2022 by Robert L
Good quality easy to fit and was delivered on time
Description
Kriega Drypack Tail Bag - US-10
10 litre internal capacity
Universal fit, ideal for any style of bike
Hard wearing 420D Cordura construction
Fully waterproof, no rain cover required
Roll-top closure with large opening
Removable liner for added weatherproofing
YKK water-resistant zips used throughout
Rear mesh pockets ideal for small items
Connection points for other Drypacks
Aircraft grade alloy hooks for easy latching
Hook straps and subframe loops included
Can be hooked onto any Kriega backpack
Dimensions: 330(H) x 240(W) x 120(D) mm
Weight: 600g
Product Specification
Tank bag conversion
Replacement Liner
Manufacturer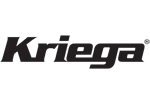 About
Kriega
Designed in the UK by a dedicated team of motorcyclists. Kriega motorcycle backpacks, bike packs and accessories offer innovation, along with the highest standards of functionality and craftsmanship. Kriega kit is built to perform with an exceptional 10-year guarantee on all products.

You won't get it cheaper.
Our Price Match Promise.