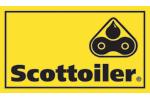 Scottoiler E System - Digital Display
Customer Reviews
for Scottoiler E System - Digital Display
Description
Scottoiler E System - Digital Display
Plug and play, simple installation
Triple axis accelerometer monitoring
Multi-functional digital display included
Displays temp, flow fare and oil level
Compatible with all Scottoiler products
Works with dual injectors and reservoirs
Draws less than 1 milli-amp of power
Flow rate can be changed via display
Fully maintains the chain and sprockets
Smoother and longer running periods
The eSystem measures acceleration and vibration in 'G-Force' using a triple axis accelerometer and displays this information on screen allowing riders to monitor activity. Plug and play connectivity to the battery means the eSystem is the simplest electronic chain lubrication system to fit, eliminating long periods spent installing and allowing more time enjoying the product.

The multi function graphical digital display shows ambient temperature, oil flow rate and the oil reservoir level allowing riders to monitor the vital statistics of their ride at a glance. Fully compatible with existing Scottoiler range of add-ons - increased capacity reservoirs (Magnum & Lube Tube) and Dual Injector dispenser.

When the engine is off the eSystem draws less than 1 milli-amp of power. This is significantly less than the current drawn by a modern alarm so riders don't need to worry about power drainage. The Graphical digital multi function display allows the rider to adapt the flow rate of the oil whilst riding, to suit the riding conditions. The reservoir holds 60ml of Scottoil, which equates to an extra 6 hours of riding before refills compared to the vacuum operated Scottoiler system, meaning more time can be spent riding rather than maintaining your bike.

Helps your chain provide efficient power transfer and gives a cleaner, quieter, smoother running transmission. Increase time between chain adjustments and minimise maintenance and can increase the life of your chain and sprockets by up to 7 times the perfect way to save money and add value to your bike.
Manufacturer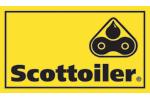 About
Scottoiler
Initial prototypes for the first Scottoiler system appeared over twenty five years ago, when Fraser Scott began to investigate and invest in the potential of his idea for a motorcycle chain oiler. As a life-long motorcyclist, the initial idea came to Fraser when he was commuting from Glasgow to Manchester on a regular basis. Due to the high mileage that Fraser was travelling, he found himself having to continually adjust or change his chain. Eventually, under the name of FM Scottoilers Limited, Fraser first made the Scottoiler available to the public in 1986, finally settling on trading as Scottoiler (Scotland) Limited in 1992. Since then continual improvements and innovations have culminated in today's range of products. The popularity of Scottoiler products globally has created an ever expanding workforce with its HQ based in Milngavie just outside Glasgow. With a strong R&D function continually developing future Scottoiler products the company plans to bring the benefits of their product range to a much wider global community in the future.
See all Scottoiler products…
Questions and Answers
Questions and Answers
Does this fit my 2019 Kawasaki zx6r? Also is this the complete kit? Or literally just a pump and a display? Its hard to tell from description and images for this item!

January 3, 2020

The main components of the kit are the eSystem Reservoir (REP), the dispenser (which feeds oil onto the chain and sprocket from the chain oiler), a bottle of Scottoiler motorbike chain lube suitable for approximately 5,000 miles and the parts required for a variety of fitting options.

Hi Do you know if the digital display unit is waterproof? Thanks

April 24, 2019

Scottoiler confirm that the display unit is waterproof.

Hi I like to hear does it fit a Triumph sprint 955 year 2000 ?

September 28, 2018

The E system is compatible with both the Sprint RS 955 (Up to 2004) and the Sprint ST 955 (1998-2004)

Will the e system fit my z1000zx 2017?

August 28, 2018

The eSystem is compatible with the 2017 Z1000SX.You are not able to use the dual injector accessory with this model.

Hi, will this fit my 2007 Yamaha FZ1-S without Adapters. Thanks in advance

May 28, 2018

The E System is compatible with your motorcycle without any adaptors.

I have a 2016 ZZR 1400, do you sell the adapter?

March 27, 2018

If you require the adaptor, these can be obtained from Scottoiler once your E System has been delivered.

Is this the second version(V2)?

August 22, 2017

It is indeed the V2.

Will this fit a 2010 triumph st sprint 1050? Would I require any adaptors? Would a dual feed system fit this bike?

August 22, 2017

Scottoiler advise that the system should work fine on the 2010 ST Sprint 1050, with no adaptors required. The dual feed system should be ok, although you will possibly need to trim the nib lengths.

Hi, do it fits my kawasaki er6f 14 reg?

March 3, 2017

Yes, the e-system will fit your ER6F. You will need to use adapter SA-0093BL.

You won't get it cheaper.
Our Price Match Promise.