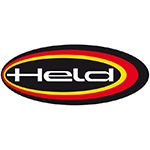 Held Clip-in eVest Airbag with In&Box - Black
Cordless inflatable air vest with 60ms from detection to full inflation
View full details
Customer Reviews
for Held Clip-in eVest Airbag with In&Box - Black
February 20, 2020
Excellent for the features/price
I have been contemplating purchasing an Airbag Suit for the last year as I felt that the offerings were starting to hit a realistic price amongst the various manufacturers of this technology. My main criteria was that it had to be self contained (no tether), worn under textiles/leathers and dual purpose for road and occasional track days. As far as I could tell the only electronic system that appears to be currently dual purpose in respect of Road/Track is the In&Motion system which has been adopted by Held for their Airbags Vests. The other factor that came into play in my decision was that I already had a Held Slade one piece leather suit. When purchasing I also opted for the additional Armoured Chest Protectors which fit into pockets within the vest and give extra protection against hardened objects which may penetrate the airbag. Initial concerns about bulkiness have dissapeared and I dont really notice the fact that I am wearing a airbag vest as I have got used to it and the materials give good ventilation. Material quality is excellent and to the usual high standard that you would expect from Held. It also fits comfortably under my Wulf Textiles and Dainese two piece leathers. I should add that careful consideration has to be given to fitting as it is important there is enough "give" for the airbag when inflated but a close fit when worn on a day to day basis. I had been on a diet so this was easily achieved but I have noticed that additional base layers in the winter months soon take up spare space between the jacket and air vest. Fortunately I can't comment on airbag operation (hopefull never). The electronic unit that does all the magic is part of the back protector built into the vest and you have to unclip it to charge the unit via a USB cable. So far the battery seems to last about 12 hours before you get a warning. I cannot comment on max duration as I always charge following the warning. The vest comes with a fixing system which allows it to be clipped into the Held Jacket Range but my Slade Suit which was bought in 2018 does not have these fixtures. However Held will fit these clips on older suits but requires them to be sent away for a couple of weeks. This leads to one of the negatives about this vest but it is a minor issue. If you dont have the Held "clip in" system there is a sliding connection at the top of the vest to hold it together. It is a solid connector but awkward to attach and takes a while to get the hang off, you couldnt do it with gloves on! I am not going to comment on the In&Motion electronics apart from two things which fitted my selection criteria and that is I like the rental option benefits and you can easily switch between Road and Track mode using the mobile App. At the time of purchase the airbag vest was not on the website but with help from Held(UK) and Steph at SBS Leeds I was able to try the various sizes before purchase. I can ony select a 4 or 5 for rating so have opted for the 5 based on the combination of features, comfort and quality. The only downside is the faffy connector at the front but there is a technique which can be mastered! Because of this I would give a rating value of 4.7!
Read more
Description
Held Clip-in eVest Airbag with In&Box - Black
Durable fabric in the airbag area, flexible and robust to protect the air cushion
Lightweight, breathable, easy to use and invisible from the outside
Perforated and thin stretch-fabric for maximum ventilation
Rear shell with honeycomb structure
Light, impact-resistant, air-permeable
No cables or sensors on the motorcycle
Super-fast - less than 60 ms between detection and full airbag deployment
Networked system with advanced technology
Removable In&box included holding all sensors and the battery
Recess for inflator
High pressure gas cartridge replaceable by user
Held Clip-in technology
Pocket for optional back protector (not included)
Hook and loop for optional chest protector (not included)
Neck and back protection
Thorax protection, protects heart and lung area
Stabilising the cervical spine
Protects ribs, neck and stomach, protecting the internal organs
Protects against frontal impacts and stabilises the vertebral column laterally
Breathable spacer fabric at the back
Temperature-regulating air permeable mesh lining
Related Items
Manufacturer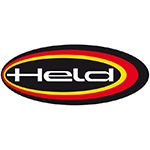 About
Held
Despite being one of the most respected manufacturers in the motorcycle clothing and accessories sector, Held remains a family business made up of passionate bikers, still with its headquarters in the same picturesque Alpine town of Burgberg. Famed for their gloves, the Held collection is one of the most comprehensive on the market with a full range of leather and textile jackets, jeans, gloves, boots and armour. As a brand, Held continue to work with the various technology partners such as Gore Tex and D3O to enable them to produce some of the safest and most technically advanced product on the market. We're constantly updating the site to incorporate the latest models from the ever expanding Held motorbike range and if you find it cheaper, all of our Held clothing is covered by our price match promise!
See all Held products…
Questions and Answers
Questions and Answers
No questions or answers have been posted for this product…

You won't get it cheaper.
Our Price Match Promise.