Verified Customer Reviews for HJC V90
Excellent Lid
24 October 2023 by David M
Light weight helmet, very good visibility. Good fit and no wind noise looks good with retro visor and sun visor. Good vents thanks Good Quality.
Unrestricted vision and so comfy.
18 February 2023 by Kevin K
Really nice comfy helmet with totally unrestricted vision. Cheek pads initially feel snug but soon wear in. There is no pin lock system but the only time I have had a problem was in minus 3 freezing fog where ice formed on the outside! Flip up is easy to operate and the tinted visor easily clears my glasses. It is quite noisey compared to more expensive helmets - but I ride an Enfield! Excellent price too.
Great vision with minor drawbacks for the price
28 June 2022 by Alex L
Best feature of this helmet is the bubble visor, as it gives a large view, with plenty of peripheral and vertical vision to spare.
Second best feature is ventilation, keeps things cool, and the absence of a chin curtain, a fixed open vent on the chin and the shape of the visor all help avoid or manage fog.
The mediocre stuff is the sun visor, which doesn't go down nearly enough and cannot be finely adjusted.
The bad stuff in my opinion is the flip-up chin, mainly the latching mechanism. Whilst it's really easy to open it up, due to the nature of the helmet, you cannot close it easily whilst moving. It's not even advisable as the helmet isn't dual homologated, so having the chin down is a big part of its structural integrity. But even at a standstill, I find it difficult to slam it shut with one hand, far easier and more sensible to use both hands to push the sides down so the latches can catch the respective anchors on each side.
The issue is, and again I'm pointing to the modular nature of the helmet, due to the very thick cheek pads pushing the sides of the helmet outwards and stretching the frame in such a way that the chin bar gets stopped short of reaching the aforementioned side anchors.
It creaks and feels wobbly, certainly indicative of its poor 3* SHARP rating. And yes, I use the correct size for my head, having only 2 shell sizes doesn't help the matter, but you get what you pay for.
Noise wise, it whistles. A lot. Lower your head down and it sounds like Thomas the tank engine. Lift your head up, stand straight, and it's fine.
As a matter of fact, I believe most of these shortcomings can be tolerated for the price and its intended use - it's a retro helmet, probably best deemed for cruisers and tourers. You stand straight, it ventilates great and is as quiet as a helmet of this price can be.
You flip it shut before taking off and that's dealt with.
Not sure how it manages in the wet yet, I am not expecting any impressive results.
Classic look, clever features
06 June 2022 by Anonymous
My order arrived very promptly the day before a 300klm road trip so I couldn't wait to see how it would compare to my previous Shark Evo One 2. Its much quieter and doesn't fog up at all, which may be due to no chin curtain. Initially the visor seems a faff to raise but its not a problem with gloves on during spin. I would have preferred a slightly longer sun visor but overall it was a great performer on my windy but sunny road trip. I'm usually a size S in Shark but the M was a much better fit with this HJC. It has a lovely clean classic look with the cute retro bubble visor but yet has the stuff I love like the sun visor, vents and handy flip up feature. It also has pockets for a bluetooth system but my earbuds were very comfortable to wear underneath for my own GPS navigation. A great value helmet!
Maxi minimalist
12 June 2021 by Sally-Anne
Elegant design. Unbeatable combo of full face, modular (flip) + retro extra wide vision visor. Looks so simple, but full of features. Easy open and lock. Simple access to vent and tinted visor sliders. No fog vision. bubble visor very spacious. Fit true to size for me. Fast post, amazing service as usual.
Really Good
05 May 2021 by Liam
I've been looking for a helmet of this type for ages but either poor reviews or to costly. However this helmet ticks all the boxes. It's very comfortable and the sizes seem spot on. As per usual sportsbike are superb on price and delivery!
Perfect helmet for glasses
28 April 2021 by Lalit S
I don't really care about the looks, the little extra space on the inside due to the bulge causes less fogging on my glasses. Visibility is also great. Its a bit heavier than my previous LS2 helmet, but, maybe I'll get used to that.
HJC V90 - Matt Black
20 November 2020 by Anonymous
Well made and nice fit. The larger visor gives great side vision also anti fog. Added advantage that bluetooth module can be added.
Great helmet and vintage style
01 October 2020 by Luiza M
I love practical things so having a vintage looking new flip-up helmet with bubble visor is a dream come true. Fits very well and it's definitely the quietest helmet I've ever had.
Totally recommend!
The helmet I've been waiting for!
02 September 2020 by Anonymous
A perfect combination: a retro-looking flip-up helmet! My first flip-up, having previously worn an HJC IS17. The V90 is very comfortable & just the style I wanted. The bubble visor gives amazing widescreen vision, especially after years wearing a full face helmet. I've heard flip-ups can be noisy but so far the V90 seems comparable to my old helmet. The sun visor actually seems a little small, & so far I've had a continuous problem with it fogging up when the bubble visor is also locked down so I've taken to simply wearing sunglasses & ignoring the drop down sun visor. All in all I'm very pleased with the V90, it looks like something the Mercury astronauts might've worn. It's really nice to have a retro flip-up with modern comforts. The price was reasonable & delivery was quick: highly recommended on all fronts.
Good bit of kit
28 May 2020 by Anonymous
My first flip-lid so can't make strict comparisons, but am quite impressed so far. Notably the quietest helmet I've owned - the liner hugs my neck closely so there's almost no wind roar under my ears which is certainly good news. Fair amount of wind blasting up under the chin, but that's no surprise - there's no curtain of course. Visibility is wonderful - the bubble and the large aperture make it a very light, bright and airy place to be. The top vent seems to work just fine and have kept pretty cool in it in this pretty hot weather. Pretty light, and there's little suggestion of the helmet tugging or whistling in the airstream as my head is turned. Would be interesting to see whether and what its SHARP rating might be. Looks just right for riding my retro naked.
Description
HJC V90 - Matt Black
Advanced fibreglass composite shell construction
Superior fit and comfort using advanced CAD technology
Bubble visor design offers greater peripheral vision
Silvercool T moisture-wicking liner with advanced anti-bacterial fabric
Micrometric quick release chin strap buckle
Fully removable and washable interior lining
Integrated anti-fog sun visor deploys quickly with easy-to-reach lever
Ready for SMART HJC Bluetooth system (sold separately)
The HJC V90 is a vintage style flip-up motorcycle helmet, with a bubble visor and integrated sun visor for the perfect retro style.
Product Specification
Variants
Visors
Intercom System
Manufacturer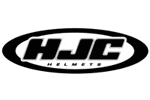 About
HJC
HJC have been designing and manufacturing high quality protective helmets since the early 1950s. In 1971 the factory turned all of its attention to motorcycle helmets and set itself the simple goal of providing high quality, comfortable, and reasonably priced helmets to motorcyclists throughout the world. This goal came a step nearer during the 1990s when HJC became America's top selling motorcycle helmet - a position it's held ever since. Today HJC helmets are available in every corner of the globe and are, quite simply, the world's biggest helmet brand, producing more motorcycle helmets than any other marque. The range now encompasses the full spectrum of helmet types, with the widest selection of graphics, materials, and price points.

You won't get it cheaper.
Our Price Match Promise.