Verified Customer Reviews for Arai RX-7V Evo Race FIM
Go find a better helmet…. IF you can
12 January 2022 by Steve L
The praises of the Race FIM and the 'standard' RX-7V version of this helmet have been rightly sung across ALL these reviews, so I'll offer an alternative take.
Bought in the depths of winter during Sportsbikeshop's excellent sale, so as yet not worn on the bike (I know, another fair weather rider..)
However, I can hopefully offer some observations and guidance - some obvious, some less so between this and the 'standard' RX-7V.
It's a noticeably lighter helmet by some 50 grams.
Now that may sound pretty insignificant, but it's noticeable in your hand and when it's on your head.
The extra rear diffuser is supplied loose in the box and is a self fit item with pre-installed adhesive pads.
Unlike its sister RX-7V, the rear spoiler is not adjustable.
The Race FIM also doesn't come supplied with the standard fit breath guard of the RX-7V.
It does however come with a 2D visor with posts for tear offs.
The centre one of the three main front vents is smaller in size whereas all three on its sibling are of the same size / design.
Having tried the two helmets against one another at the same time, there's a significant difference in sizing / fit - on my head at least..
I would almost call a 'Large' RX-7V a 'Medium' by comparison - and I've worn size 'Large' Arais for the last 20+ years.
And finally, the Race FIM version looses the slightly (in my eyes) garish logo on the back, replaced by a small removable label.
Other than the above, either helmet continues the glove like luxurious fit and exemplary finish that Arai have built their well earned reputation on.
Finally, a very big thank you to the EXCEPTIONALLY helpful and friendly crew at Sportsbikeshop Bristol.
Fantastic helmet, great price
13 September 2021 by Christopher L
Best part of this helmet purchase was the help offered by the guys in the Bristol store when I struggled to get the right dark visor. Helmet vents very well but is a lot noisier than my XD4. Usual Arai comfort but feels a little rounder as some pressure on my forehead.
Quality as expected
06 April 2021 by Matthew A
This is the first time I've bought a top tier helmet and it's totally lived up to expectations. I have owned Arai before so my expectations were high. Highlights are the quality of materials used though out and the fit and finish. The helmet is fantastically safe, comfortable and a pleasure to use. I would absolutely purchase again - and it's very easy to change the visor!
Style: Sign Grey
Aria RX7 Race
13 March 2021 by Carl G
Style: Frost Black
Excellent !
05 March 2021 by Ian T
I would definitely recommend using Sportsbikeshop.co.uk. They are a professional and value for money company that delivers a quality and fast service product
Style: Diamond Black
Brilliant
04 February 2021 by Anonymous
Brilliant helmet, top quality
Style: Sign Grey
Perfect helmet
13 January 2021 by Matthew
Slight issue initially when I was actually sent the wrong helmet. However, the guys dealt with it amazingly and I had the replacement within 24 hours - so cannot fault the level of service.

Helmet is amazing quality as you'd expect, and the fit is perfect. Really comfortable.
Style: Frost Black
Love it
03 June 2020 by Lewis G
Well worth the money, looks great and very comfy can't go wrong with arai.
Style: Sign Grey
Description
Arai RX-7V Evo Race FIM - Solid White
Approved to FIM FRHPhe-01
PB-SNC2 mutli-composite outer shell construction
RX-7V Racing Ventilation for optimal air flow
Free Flow System (FFS) with eye port air channels
Center top vent with brow extended to temple area
Three position chin, neck exhaust vent and sides
Fixed chin spoiler for enhanced stability at speed
Non-adjustable patented air wing and rear spoiler
2D visor with tear-off posts designed for racing
Antimicrobial material for enhanced cleanliness
Removable and washable cheek pads and interior
Replaceable chinstrap covers and neck-roll
Speaker pockets to accommodate intercom systems
Facial contour system (FCS) for enhanced comfort
5mm peel away Ear cups, cheek and temple pad
Thin centre pad for more room in front area
Emergency release cheek=pad system (ERS)
Five times inspected for optimal condition
Washable interior with all-day comfort
Hard-wearing double-D ring chin strap
Smooth shape for glancing off the impact
Strong outer shell, soft inner shell
5-year limited warranty
Product Specification
Variants
Manufacturer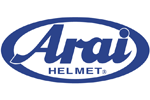 About
Arai
If there's one brand you can rely on in the fast moving world of motorcycling, it's Arai. Since 1937, this family owned company has committed itself to one goal, making the very best helmet possible.

Arai have consistently provided the ultimate in motorcycle helmet safety, comfort and quality thanks to over 20 years of effort in MotoGP, World Superbike and every other conceivable form of motorcycle racing, at all levels. Every single piece of knowledge learned on the racetrack is put to good use in the development of product, helping to protect every one of Arai's customers on the road, the world over. There truly is no such thing as a cheap Arai helmet.

So while many things change, one truth will always remain. If you want the ultimate motorcycle crash helmet there is only one choice, Arai Helmets.

You won't get it cheaper.
Our Price Match Promise.